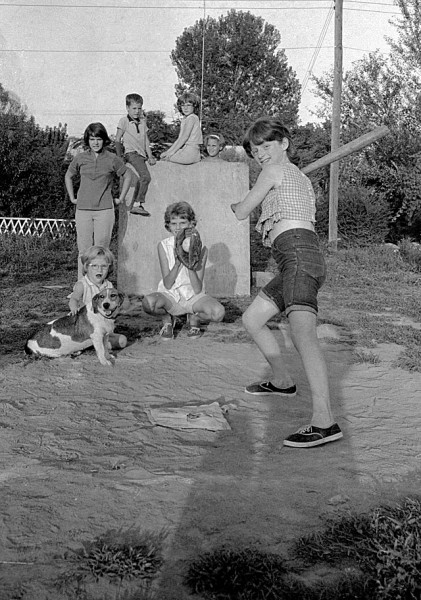 Some pictures should stay lost. This is one of those photos (not to mention the ones that DIDN'T run) I wish I had never taken.
Oh, the story is valid: neighborhood kids need a place to play ball, so they clear off a vacant lot. The city health department, instead of stopping them, sends a mower by to help cut the high grass.
I probably heard about it from Lila, who lived on Sheridan Street, and "sold" it as a story to The Missourian. In later years, I made it a rule not to cover events my family was involved in, but I'll even let the slight conflict of interest slide.
Don't set up pictures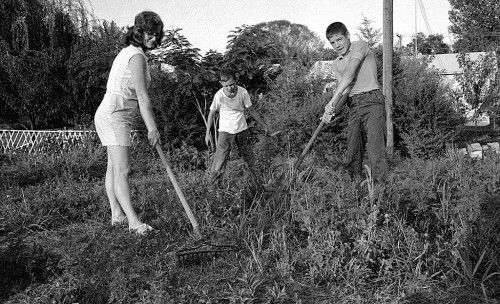 A couple of years later, I hopped on a train in Cape to go to a National Press Photographers Association Flying Short Course where Louisville photographer Bill Strode talked about ethics. "If there are only two people in the room if I set up a picture – me and the subject – that's two too damn many people in the world who know I'm a liar." he drilled into us.
Don't set up BAD pictures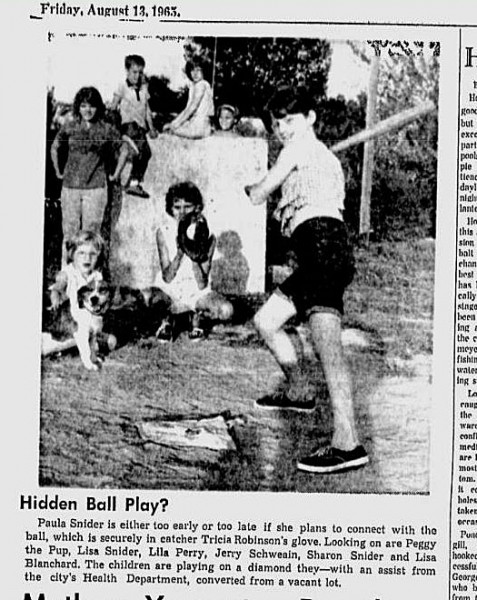 These photos go one step worse: they are set-up photos that are done badly, which is hinted at in the caption that notes the ball in the catcher's mitt.
Neighborhood ball field

The story said that Johnny Perry (who became the brother-in-law you've read about here), Alex Snider and Keith Lathan were the ones who hatched up the plot to clear the lot behind Alex's home on Sheridan Drive.
The neighborhood kids had been tackling the jungle two days when city health officer Russell Matzen saw their efforts and sent over a city mower to make short work of it.
It's not hard to field a team. One night there a quick count turned up 33 children, ranging in age from 2 to 17, four mothers and Peggy the Pup. (In the interest of full disclosure, Peggy the Pup was Lila's family's dog.)

Mothers play, too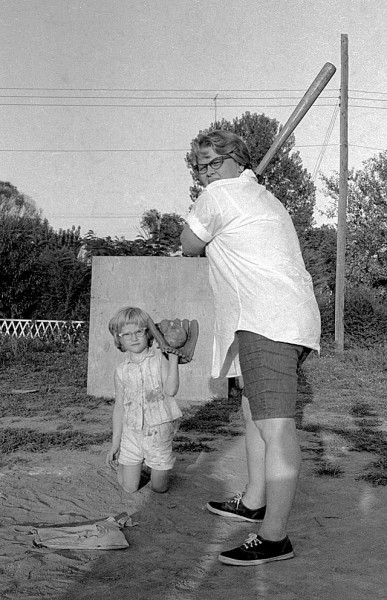 A number of neighborhood mothers are content to serve as spectators. However, four of them, Mrs. Lucille Perry, 315 Sheridan; Mrs.Bill Snider (who made the bases), 308 Sheridan; Mrs. Bill Harris, 2214 Good Hope, and Mrs. Jerry Schweain, 317 Sheridan, "get into the swing of things.
In one of those coincidences that could only happen in Cape, I ran into Jerry Schweain on Independence Steet last year. We didn't recognize each other.
When I told him my name, he said,"I've got something to show you that you probably never thought you'd see again."
He reached for his wallet, fumbled around for a bit, then pulled out a worn and faded Palm Beach Post-Times business card with my home phone number scrawled on it. "You told me to give you a call if I ever got down to your neck of the woods. I never got closer than around Tampa, so I never called you."
Do dishes and dash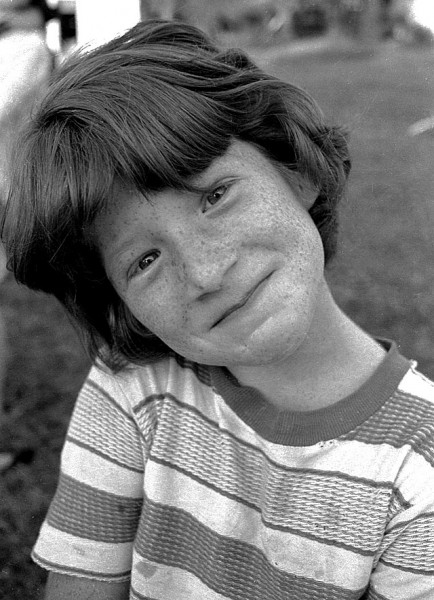 Asked how hard the softball fever had struck them, Mrs. Snider said, "The minute the dishes are done, I dash out the door."
Non-posed photos more interesting.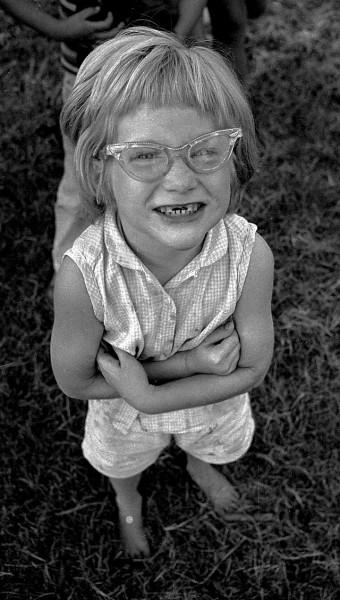 Lisa's Snider's glasses look almost as big as she is.