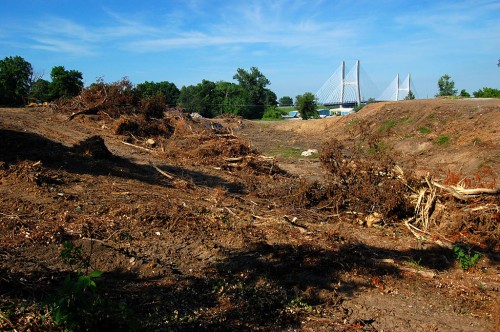 The first day I was in Cape, we made the usual pass down Broadway, cruised past Water Street to see that the floodgates were closed, then headed down Aquamsi Street, jogged over onto Elm Street, then Giboney, on down to where the sinkholes had swallowed South Sprigg at Cape LaCroix Creek.
Funny how I always thought that was pretty much a straight shot until I looked at it on the map.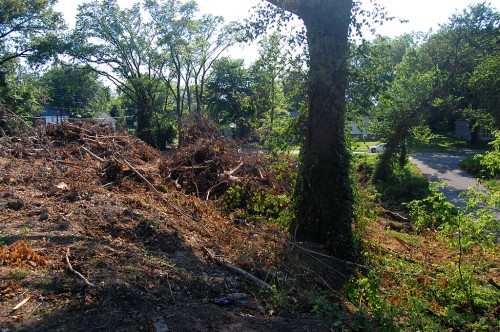 As we passed below Fort D, I thought something was odd: we could SEE the fort. I thought I remembered the view being blocked by brush and trees.
What's all the clearing?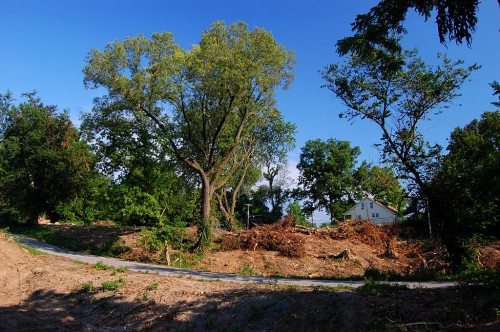 On the way back from looking at the sinkholes, we noticed that there was a lot of land being cleared north of the fort in an area roughly bounded by Maple on the north, Giboney on the east, Elm on the south and Ranney on the west.
"It's going to be a minor league ball field"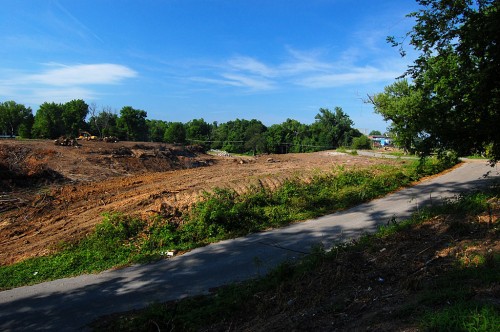 There was a work crew digging out the foundation of a building half-way up Elm Street, so I stopped to talk with a worker about what they were doing.
"Well, I guess it's no secret. The rumor is that it's going to be a minor league ball field. We have people stopping by here all the time saying that's what it's gonna be. In fact, Walter Joe Ford pulled up yesterday and asked, 'Is this [name deleted]'s ball field?'"
I didn't track down the alleged owner
The name is deleted because I didn't confirm the name. I heard it from several semi-reliable sources, but I didn't talk directly to the person who is supposedly putting the project together.
Reporting is too much like work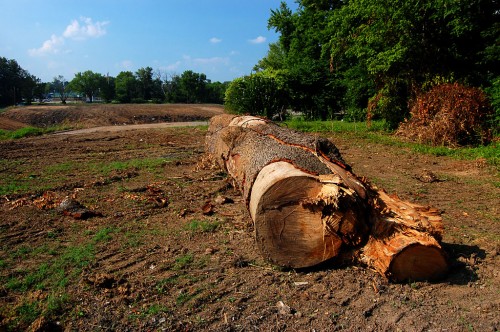 Why didn't I track it down? Frankly, that's real reporting and real reporting is too close to being work. Something else was nagging me, too. I've worked stories about how big land purchases are put together. The early rumors of what was thought to be going on frequently turn out not to be even close to the final deal.
So, I'm going to let you folks theorize and speculate away. Let's see how many of you have heard the same rumor I have.
Reasons that it might be true:
The person who is said to be involved has a history of doing or being involved in big projects, particularly of a civic-minded nature, and has been closely linked with some of the university's expansions.
The person has an interest in baseball.
If a pro league DIDN'T come to Cape, the property is close enough to the River Campus, that it could be re-purposed for the University.
Reasons why it might NOT be true
As it stands now, there doesn't look to be enough land for a playing field, practice fields, seating and parking. That's not to say that more property hasn't been obtained or could be obtained.
That area is made up of steep hills and deep gullies. Either an awful lot of hills are going to have to be cut down or there's going to have to be a lot of fill brought in to make it level. There might be enough dirt on site, but I'm not sure.
Two houses need to be torn down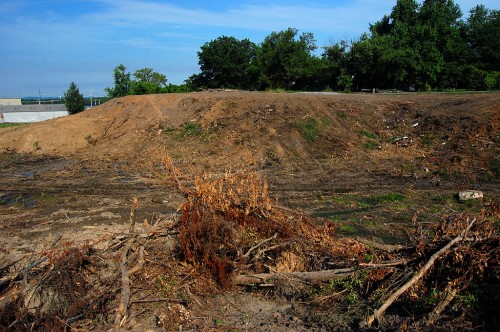 The worker told me that there are two houses at the top of the hill that still need to be torn down. Rumor has it that at least one of the the houses is owned by an elderly man who has no desire to move from his home. There are some trespassing signs that I can "overlook," but I decided I'd believe this guy might just mean his, so I didn't knock on his door to ask him what was going on.
Clearing work brings out treasure hunters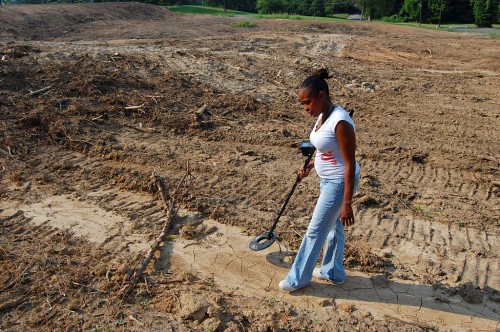 When I checked out the site on Saturday, I ran into Jamihia Walker, a 26-year-old SEMO student majoring in business, who was wielding a metal detector hoping to find coins or other treasures.
Trash or treasure?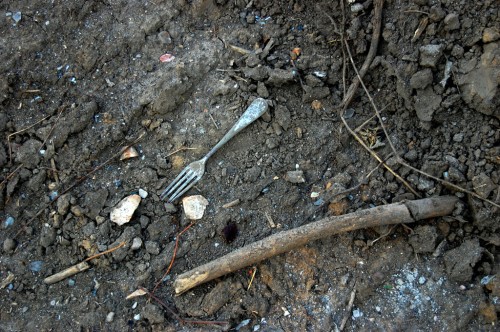 Ms. Walker, was an absolute delight to talk with except for her insistence on calling me "sir" – "I'm sorry, sir, that's just the way my grandparents brought me up."
She came here from Sacramento to help care for them. Now that they've passed away, she plans to get her degree, stay in Cape a few more years, then move to a bigger city where she will become an entrepreneur. She might just make it if she can shed that "sir" business.
What's your opinion?
Is the property suitable for a minor league ball facility?
Would Cape be able to support a minor league team?
Which major league team would it be affiliated with?
Would you attend the games or are you going to be spending all your time and money at the casino?
If it's not a ball field, what is your alternative theory? Wild guesses acceptable.
By the way, I've heard this area called Mill Town and Giboney Woods. I'm not sure if they are the same or if it's either. Anyone know the answer to THAT?
Photo gallery
Here's a photo gallery of pictures taken July 1, 2011, and July 16, showing how much work has been accomplished. Click on any photo to make it larger, then click on the left or right side to move through the collection.