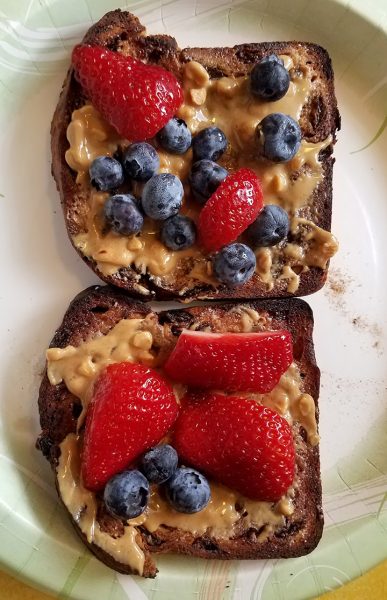 We Steinhoff boys were raised on cinnamon sugar peanut butter toast made with raisin bread bought at the "used bread store." Mother would go to the Bunny Bread outlet and buy loaves of the stuff, and turn out a dozen or so slices every morning.
Sounds as much as taste
What I remember more than the taste of the gooey stick-to-the-roof-of-your-mouth concoction was the sounds of its making.
It would start out with the squeak of the springs in the oven door being pulled down. Then there was a clatter and crashing when Mother removed all the heavy pots and pans stored in the oven. That would be followed by a tinny sliding sound when she took out the warped and bent cookie sheet.
She'd butter up as many slices of bread as the sheet would hold, then sprinkle sugar and cinnamon on them, and stick them in the oven. Just as the sugar was beginning to bubble and, hopefully, before the toast would start to burn, she'd snatch it out of the stove and put a dollop of Peter Pan crunchy peanut butter on it. (I always liked a thin coating of the butter on mine. I didn't like big globs of the stuff.)
Peach milk shakes
When peaches were in season, she throw some fresh peaches in the blender, along with ice cream and a little milk. Because I was scrawny in grade and high school, she might pitch a couple raw eggs in my shake. Little did we know the delayed effect of that. It took about 35 years for them to add more than the desired bulk.
I don't do peach milk shakes in the morning, but I DO like a smoothie in the evening. Since I had some fresh strawberries and blueberries for my smoothie, I thought I'd try them on my morning toast. They added an interesting taste change, and looked pretty darned colorful. (The picture was taken with my Samsung Galaxy 7 Edge smart phone. I'm always amazed at the quality it produces. Click on the photo to make it larger.)
For what it's worth, I've found the raisin bread sold at Sam's Clubs is some of the best around: it's very dense and has a gazillion raisins. Wife Lila said she likes it with some cream cheese spread on top.
(That's Son Matt and Grandson Malcolm. Malcolm is sneaking up on his teen years now, but he's still not crazy about being stuffed into funny shirts.)