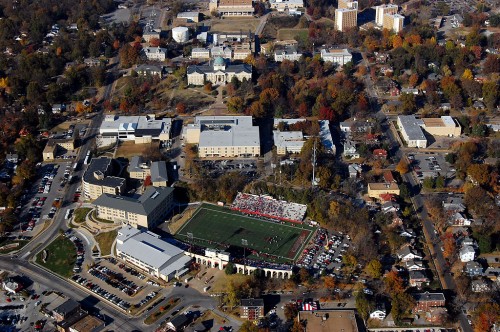 We'll get the facts out of the way first, then we'll get on with the story. I don't know what sporting event was going on at Houck Stadium Saturday afternoon, but you couldn't have asked for a nicer day to hold it.
Houck Field House, Academic Hall, Kent Library and the high-rise dorms all show up prominently. Parking has replaced some of the homes and businesses along Broadway in front of the Field House. (Click on the photo to make it larger. It has some cool detail.)
I'll run a photo at the bottom of the page that was shot sometime around 1966 for comparison.
Ernie Chiles was my pilot
I flew my first aerials with Ernie Chiles while I was still in high school, and I've written about how one of those flights launched me into photojournalism.
We flew out of the Painton Airport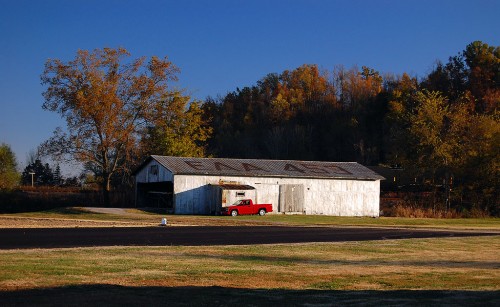 I asked Ernie if he knew where I could charter a plane to shoot some aerial photos on this trip home. He offered to fly me himself for old times sake. (By the way, we've come to an agreement: we refer to each other as "former student" and "former teacher." Neither of us likes the way "old teacher" and old student" sounds.)
He keeps his plane at the Painton Airport.
If you have to ask where it is, you wouldn't know where it was if I told you. Its a grass strip, with a short length of paved runway needed to get a crop duster airborne when he's fully loaded.
It's flying the way it used to be: park next to your plane, no TSA and no full body scanners. That's not to say there's NO security. There were half a dozen guys hanging around who knew who belonged and who didn't.
Ernie's seeing eye dog had the cutest parachute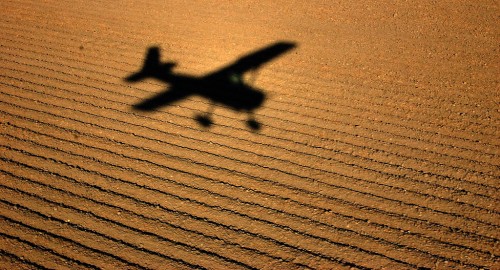 Since he's advancing in age, I tried as delicately as possible to see if Ernie was up to the task. He said that he's finally mastered takeoffs; landings are handled by the Law of  Gravity, which hasn't failed to bring every flight of his to the ground.
He DID suggest that I bring an extra milk bone or two for his seeing eye dog. It sits right behind him in the cockpit and presses down on the appropriate shoulder to indicate a left or right turn. It has the cutest little parachute.
I thought for a second that we had attracted a wingman just before touchdown. Turned out it was just our shadow.
Jet on strafing run

While Ernie was refueling and putting his airplane to bed, I looked up to see a jet making a low-altitude strafing run at a long freight train loaded with Canadian crude oil. It took a moment to realize that it was a radio-controlled model operated by one of Ernie's buddies. Things are not always as they appear at the Painton Airport.
I really DID shoot some serious photos, but it's going to take some time to wade through the 563 frames to pull out the best ones. I'll scatter them out to keep you from overdosing on aerial photos.
Houck Stadium circa 1966
As promised, here's what the Houck Stadium area looked like around 1966.