I was researching the history of SEMO Stone, which was once Federal Materials and was originally the Edward Hely Limestone Quarry. It might even be older than the cement plant quarry, but I'm still checking.
Anyway, I've been following the Fruitland quarry controversy with half an eye without developing any strong opinions one way or the other. One of the players also owns Strack Excavating and Hauling, which owns the quarry I featured Jan. 7, 2011,
I recalled reading some back-and-forth in The Missourian about which came first, the quarry or the houses in the Dalhousie golf community. I took the lazy way out and activated the timeline feature in Google Earth. Here's what I found.
May 22, 1996, both properties undeveloped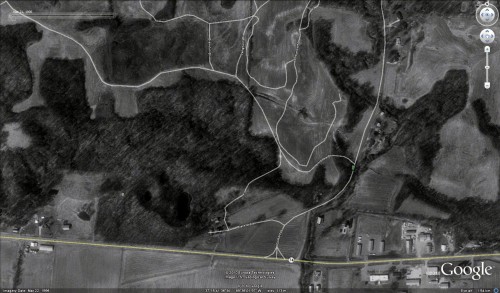 The first photo available shows both the quarry area and the golf development undeveloped and being used for agricultural purposes. The street overlay makes it look like there are streets, but they don't exist. Hwy 74 and Bloomfield Rd (CR 205) are about the only real roads. (Click on the images to make them larger.)
Jan. 1, 2003, no Dalhousie homes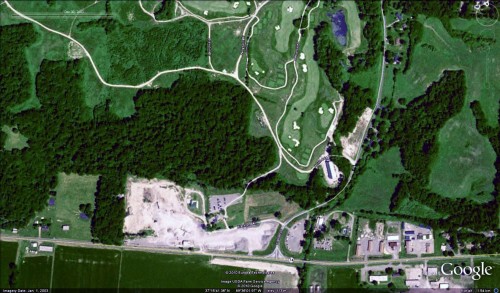 In this USDA Farm Service photo from Jan. 1, 2003, we can see that both the golf course and the  quarry are taking shape. The housing area, though, is still forest.
May 11, 2005, Dalhousie starts clearing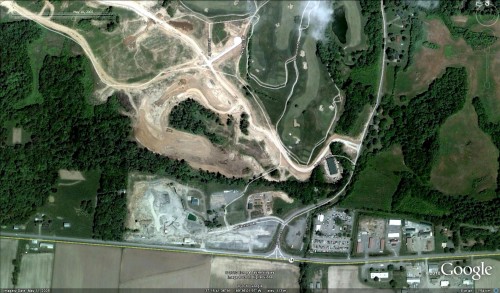 In this photo from May 11, 2005, the quarry is beginning to show some depth. Clearing has begun in the Dalhousie housing area. Some of the streets are paved, some are still under construction. Google also had a USDA photo from June 15, 2005, but it was similar to this one and of poorer quality, so I omitted it.
June 16, 2009, Dalhousie homes appear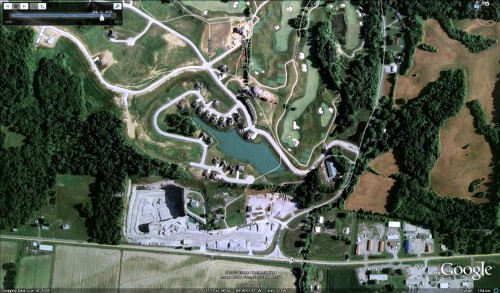 By the time 2009 rolled around, the quarry had gotten substantially deeper and the homes on the bluff overlooking it had been built. Most of the roads are paved.
Nov. 6, 2010, aerial photo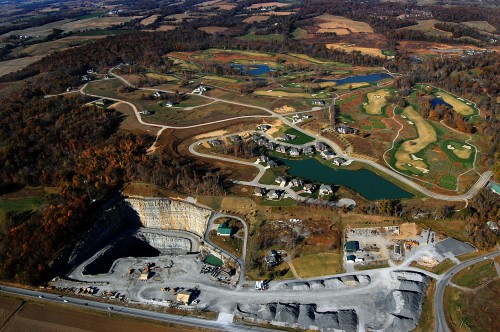 My Nov. 6, 2010, aerial photo shows a slightly different angle from Google's, but the situation is pretty much the same. The quarry is much deeper. I don't think any additional homes have been built.
Chicken or Egg conclusion
I'm going to have to say that these photos show that the Dalhousie Golf Course and the Strack Quarry were both developed at roughly the same time. There is no doubt, however, that the quarry was well established before the first home in the development was built.