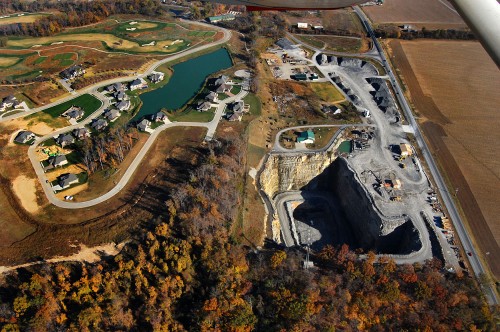 I grew up around construction equipment, so I've always been fascinated by big holes in the ground. Every time I go down Bloomfield Rd. on the way to Dutchtown, I crane my neck to see if I can get a glimpse of the Strack Quarry at the intersection of Bloomfield and Hwy 74.
When Ernie Chiles and I flew around Cape in November, I asked him to make a pass over the Strack quarry so I could get a feel for how deep it was and how close it was to the Dalhousie subdivision that was carved out of the Elmwood estate.
(We didn't have time to make a pass of the area that's been the source of controversy over a request by Strack Excavating and Heartland Materials to establish two new quarries near Saxony Lutheran School at Fruitland.)
That's a small, deep hole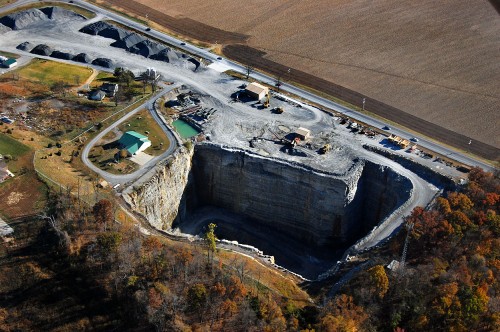 Because of the shadows, it was hard for me to see all the way to the bottom. I never could get a feel for how steep the haul road was to get the stone out of the bottom of the pit. I didn't see any sign of a conveyor like the cement plant uses.
No fences nor signs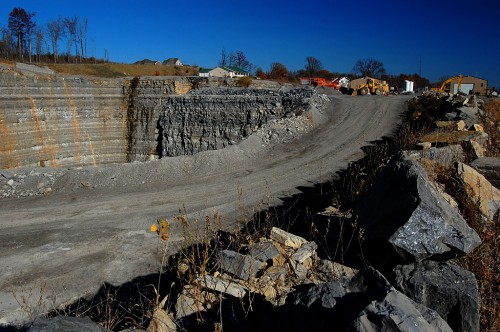 A few days later, on the way to Dutchtown, I pulled off to see what was visible from the road. I was surprised to see there weren't any fences separating the highway from the pit. A low row of rocks and a little berm was all that kept you out of a very deep hole. I didn't spot any No Trespassing signs, either, but I decided not to press my luck. (I've been known to "overlook" such signs on occasion, but there really WEREN'T any here.)
Photo Gallery
Here's a collection of photos taken from a number of different angles. Click on any image to make it larger, then click on the left or right side of the photo to move through the gallery. If you like holes in the ground like I do, stay tuned for coming stories on SEMO Stone and the cement plant quarries.
Other aerial photos
Here are links to some other aerial photos we took on this flight: