Fruitland's Strack Quarry is back in the news again. I'm not even going to try to figure out what the latest wrangle is all about. I'll let you go to Keith Lewis' story in The Missourian to try to figure out how a quarry that had approval to operate and which has moved a bunch of overburden and started poking a big hole in the ground can be told to put the brakes on.
When I was home last summer, I climbed a berm in on the south side of the Saxony Lutheran High School and shot a 360-degree panorama with the school behind me and a graveled area that is on the quarry property in front of me. I've marked the photo with compass directions to make it a little clearer. Click on the photo to make it larger.
Aerial looking north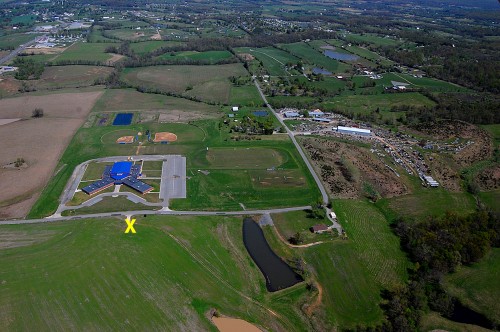 I took this aerial photo April 17, 2011. The quarry property would be at the bottom of the picture.The yellow X marks the approximate place I was standing when I took the panorama. Highway 61 is at the top left. The Y-shaped building near the center of the photo is the high school.
Google Map shows scope of work


View Larger Map
This Google Map will give you an idea of how much land has been cleared for the project. If I'm reading the latest ruling correctly, the pit itself is outside the 1,000-foot latest requirement, but the latest interpretation would require the whole operation to be 1,000 feet away, even though the north end of the property alongside CR 601 is behind a berm that is as high as the rooftop of the school.
Area quarry stories