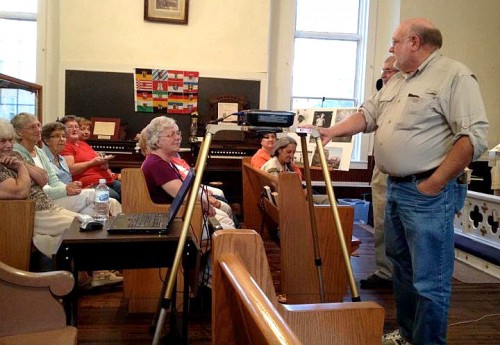 Perry County is experiencing a bumper crop of tomatoes this summer, so I was a little uneasy about facing an audience at the Lutheran Heritage Center and Museum in Altenburg. Folks up in the ridges aren't shy about expressing their opinions, and I was hoping not to come home dripping rotten tomato juice.
The purpose of my visit was to have the audience help narrow down some print selections for an exhibit this fall and for me to gauge response to to my talk about regional photography.
I didn't do a head count, but museum director Carla Jordan said about 40 people attended, about twice what we had anticipated. It was a good group. I went longer than planned, but I didn't hear any snoring and I didn't hear any boards creaking that would have given away anyone who tried to sneak out early.
Brother Mark and his friend Robin Hirsch came down from St. Louis. Robin was kind enough to shoot a couple of these photos.
Last resident of Wittenburg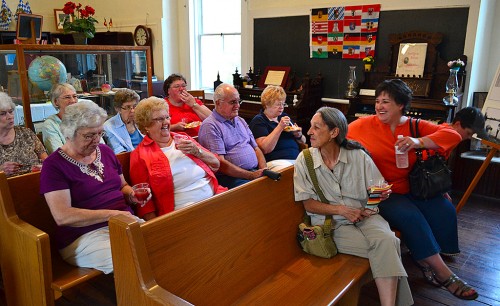 Joanne Holley, in the front row, left, is the last resident of Wittenberg. Her husband, Dave Holley, storyteller extraordinaire, died April 11, 2012. Two of the videos featured him and one was dedicated to him. Her daughter, Kristie, and her grandson are also in the row.
Talking photo technique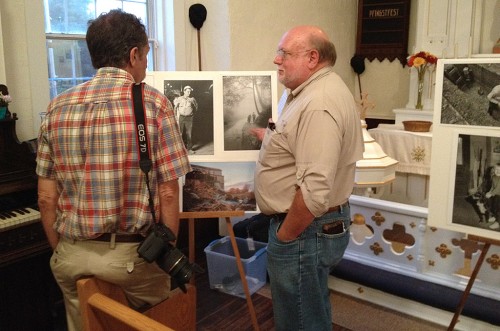 Cape photographer Tom Neumeyer stopped by to talk technique and share shooting war stories. Central High School Class of '66 classmate Dick McLard reminded me that Thursday is the monthly brunch, but I have other commitments that day. Wife Lila would certainly be there if she was in town.
Carla's introduction was so flattering that I wondered if  she had grabbed my eulogy by mistake. Warren Schmidt was equally kind at the end of the evening. Gerard Fiehler humped stuff out of my car and helped get the speakers working.
Sick cat excuse
Mother is an old hand at the museum, but this was Friend Shari's mother's first visit. LaFern Stiver admitted that she didn't know how she was going to occupy herself in what she thought was going to be a tiny, small-town museum since I had to go a couple hours early to set up. She was pleasantly surprised to see what a great job Carla and her staff do in pulling together the exhibits.
If you're in LaFern's bridge club, don't be surprised to find yourself being hauled up to Altenburg one of these days. (Shari couldn't make it down from St. Louis. She said something about a sick cat. That sounds vaguely familiar. I think she may have used that same excuse when we were in high school.)