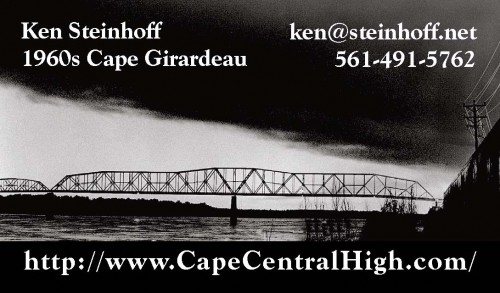 I mentioned that I was coming back to Cape next week to look for sponsors and advertisers. After procrastinating way too long, I stayed up until 2 a.m. trying to come up with some iconic photos that would work for the business card and for headers on a redesigned web site.
Son Matt came up with several designs (you can see them below), but the one above is the best at capturing the voice of CapeCentralHigh.com.
Everyone who grew up in Southeast Missouri in the 60s will recognize it.
It's black and white.
It has the feel of the site.
It's visually interesting.
Someone's farm from a speeding car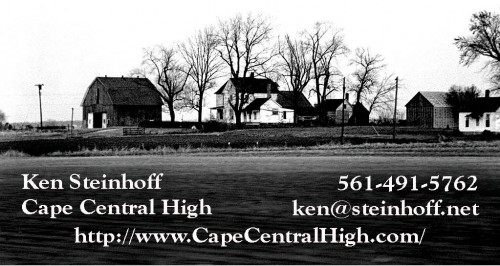 This is the first design he sent me.
I really like the image. Based on the comments I received when it ran, so did you. The only problem was that it just a little bit too rural to say "Cape Girardeau" at first glance. Cape's a relatively small town, but it IS a town.
The Bill Emerson Bridge was striking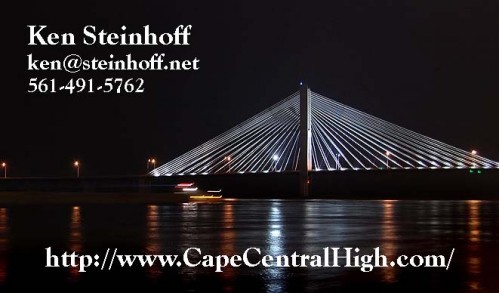 Wife Lila's eyes popped when she saw it. It's great from a graphical standpoint. The subtle colors are nice and the elements come together to give a nice place to put the text. It was also the subject of my very first blog post on Oct. 20, 2009.
It would make a GREAT business card for someone in Cape, but it screams Today, and my site is all about Yesterday.
Then Matt tried the old Traffic Bridge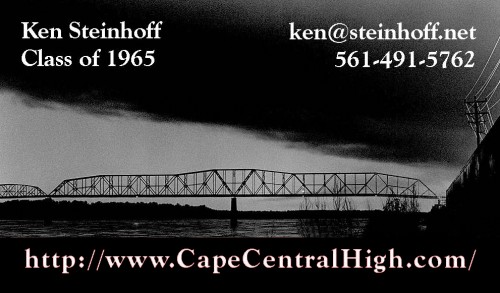 I knew right away that this was going to be the one, but I didn't like the Class of 1965 line. That's not to say that I'm not proud to be a member of the Central High School Class of 1965. I am.
It's just that that's not particularly relevant to the site nor to who I am. I've never identified much with the schools I attended, whether it was Central, SEMO or Ohio University. I was always a photographer, an observer on the sidelines, whose primary allegiance was to the publication I was working for, whether it was The Tiger, The Girardot, The Capaha Arrow, The Sagamore, The Jackson Pioneer or The Missourian.
Besides, the site has already switched from a narrow focus on a single high school in Cape Girardeau to the area as a whole. I've run pictures of shoppers in Jackson (even if I didn't know that's where I was), an I-55 interchange at Scott City, the Bald Knob Cross, Ernie Chiles riding around Horseshoe Lake and  written about my wooden stick phobia because of Dr. Herbert.
I have Notre Dame and College High students clamoring to see their pictures and I've just scraped the surface of my SEMO art.
I had him change Class of 1965 to 1960s Cape Girardeau. I'd like to have used Coming of Age in Southeast Missouri, but that was too long.
Brother Mark weighs in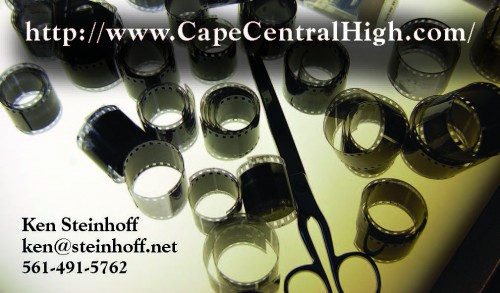 I sent the choices to my brother Mark, who does advertising for Schnucks. (I see they spell it without the apostrophe these days.) Being my brother, he wee-weed all over my choices and pitched the shot above.
Matt asked if I could reshoot it with the film arranged differently so the type would show up better. "You can shoot it in black and white, if you like," he said.
I explained that I had a couple of problems with the image
It couldn't be re-shot. I took it while I was unrolling the Coffee Can Film for sleeving in plastic pages. That train had already pulled out of the station.
It looks like I'm pitching photo finishing or commercial photography, not nostalgia. It's not a bad graphic, it's just not the message I wanted to convey.
Cape Girardeau , The City of Roses
That reminded me that Mark has a bunch of Cape memorabilia at his home in St. Louis. Way over in the corner of a picture, I had this shot of a City of Roses license plate frame. THAT would have made a great graphic, but the quality wasn't good enough. I'm going to reshoot it when I go back home. It might find its way onto a page header.
What do you think?
The RIGHT answer is that I made the right choice. Remember, I have photos and I'm not afraid to use them.