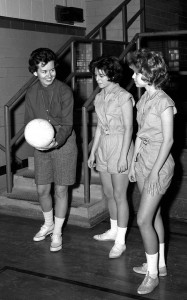 When I ran the photo of Coach Jane Womack and two girls in Central High School PE uniforms, I said I didn't know who the girls were and asked for help identifying them.
The electrons had barely enough time to go squirting down the Internet pipes before the answer started coming back.
I was right about Coach Womak, said Libby Koch, who had her for PE and Government.
Bill East said the girls were Rosanne Hecht (center) and Joni Tickel.
I made the mistake of questioning his judgment by saying, "I'll concede that MIGHT be Rosanne, but I don't recall Joni ever having Big Hair.
Almost immediately he fired back, "Check out 1964 Girardot, p. 106, bottom, and p. 107, top.
Bill East must have the doggone Girardot memorized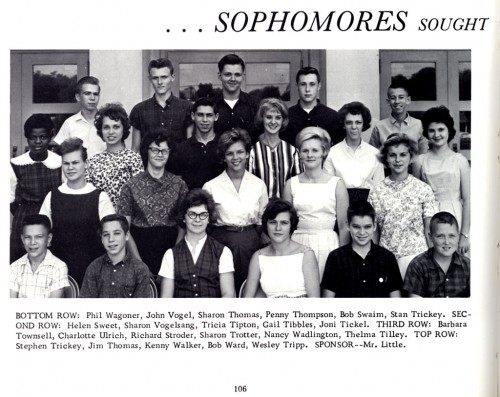 Joni looks more Frizzy than Big Hair in this homeroom picture, but her hair color looks close to the PE photo. It certainly moves her into the realm of possibility, particularly when Sally Bierbaum Dirks chimed in to support Bill.
Patti fisher Caid, who was a Notre Dame student and shouldn't have a dog in this hunt, posted, "There you go Ken, two against one! The odds are not looking good."
By the time Jane Neumeyer and Sheila Hopkins Phillips weighed in on Bill's side, I gave up.
Here's Page 107 of The Girardot showing Roseanne Hecht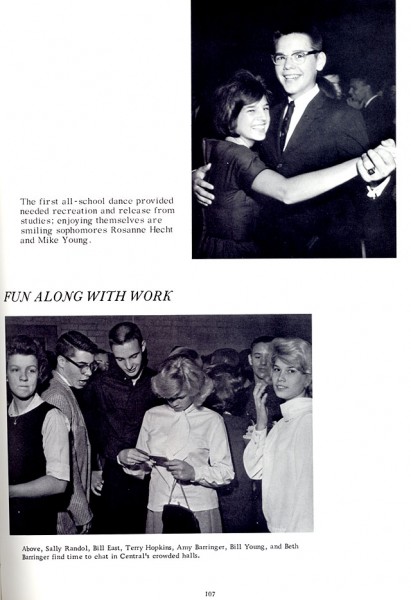 I ran the bottom of the page because it has a picture of Bill and Terry Hopkins on it. Both of them are frequent contributors to this site, so you might want to know what they looked like. OK, and the Barringer Twins are in the picture, too. That, of course didn't influence my decision to run the picture.
Bill's easy to pick out. He has the same expression in the picture I shot of the Teen Age Club dance that was moved to a bank parking lot. He's in the right center of the first picture at this link.
Joni Tickel and Bill Withers as Royalty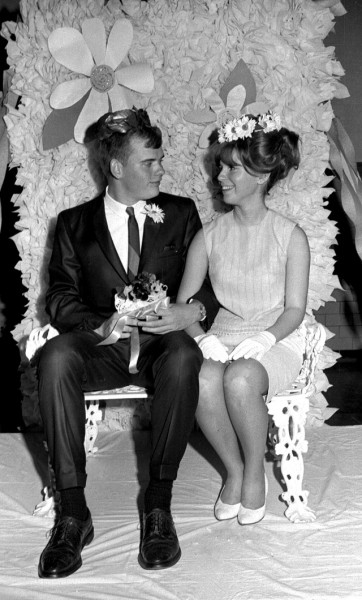 I checked my 1965 Girardot and Wife Lila's 1966 yearbook without seeing this picture, so I don't know what the event was. Since she's wearing short sleeves, I'm thinking it may have been a spring event that happened too late to make the yearbook. Ideas, anyone? Bill?