Someone's farm from my speeding car
I don't know why I even bothered looking at these frames that were tacked onto a roll of Brownies touring The Southeast Missourian. They looked grossly underexposed and were just some old buildings.
I let the scanner do its thing anyway and serendipity clicked in. (Serendipity is the effect by which one accidentally stumbles upon something fortunate, especially while looking for something entirely unrelated.)
It just dawned on me why I like these pictures. I had a Gordon Parks quote on my office wall for close to 20 years. It perfectly sums up my feelings about The Midwest and why I have to keep coming back to recharge my spiritual batteries.
In this huge silence
Homeward to the prarie I come,
to swim in the memories of childhood
and draw strength from the huge silence—
knowing that all I thought was dead here is very much alive,
and that there is a warmth here,
even when the wind blows hard and cold.
– Gordon Parks, Spring, 1984 –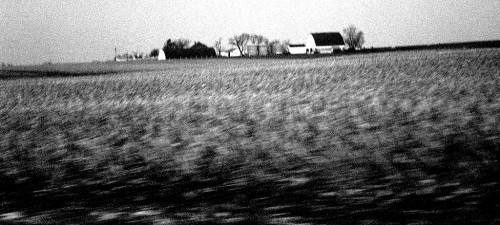 Like so many of my pictures, I have no idea where these were taken. Let me know if you recognize them.