Ernie Chiles,  Looking No Worse for Wear after His Bike Ride
When I visited with Ernie last year, he mentioned that we should gear up to ride the Katy Trail, the longest Rails to Trails in the country. It's 225 miles long, running from St. Charles in the east to Clinton in the west.
It's been something on my to-do list for several years, but my mileage for the year was way down (about 700 miles) and he confessed that he hadn't even hit three digits. A 225-mile ride didn't sound like a good idea, particularly since the weather had turned wet and cold.
Horseshoe Lake was a compromise
I had seen some maps for this weekend's Tour de Shawnee that showed an easy, flat ride around Horseshoe Lake near Olive Branch, IL, and some more challenging hilly routes north of there.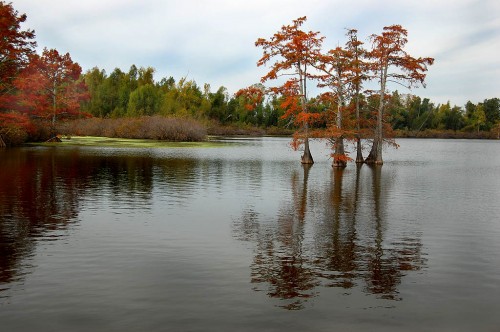 I decided that the Horseshoe Lake ride would be scenic, with light traffic and leave us with the option of extending the ride if we wanted to.
It was a good choice. When we got back to the starting point, we debated going on, but decided that we'd rather quit wanting more than to add another 20 hard miles to the ride and wishing we had bailed early.
If you're a bike geek, you might want to read THIS version, which includes a map.
If you don't know who Ernie Chiles is, go to yesterday's post.