1965 Tiger Business Staff
I need some good contacts
CapeCentralHigh.Com needs a business staff like The Tiger and The Girardot had in the Good Old Days. Well, maybe not a staff exactly like then, but some of you who have contacts who might like to purchase an ad or sponsorship on this site. I'm heading back to Cape in about a week to knock on doors, and some names and introductions would help. If you know someone I should talk with, send me an email.
I'm not looking for charity. There's real value for a business to be associated with CapeCentralHigh.com. If there wasn't, I wouldn't try to pitch it.
CapeCentralHigh.Com is popular
I don't want to get into too much inside baseball about how web sites are rated, but here are some key points
Every week shows an increase in traffic. The site has had just under 4,000 visits in the last 30 days. That's highly unusual for a site that didn't exist before Oct. 20, 2009, particularly one dealing with a niche like a small Midwestern town and its high school.
Readers spent an average of three minutes on each page. That means they are either slow readers or that they read every word of my rather long posts.
Readers, on average, visit more than one page per visit. That means more eyeballs looking at your ad.
There are (as of this moment) 139 subscribers who get email notifications whenever the site is updated. That's one of the things that has encouraged me to post more. Originally, I had planned to do one post a week to take advantage of two excellent weekly alumni email lists for the 1950s and 1960s decades. When I saw that readers would come every time something new was posted, it encouraged me to write more often.
You all are great about sharing your memories. Very few sites get as many meaningful comments as this one. If I make a mistake or ask for amplification, you're quick to respond. The 17 postings this month have averaged seven comments per post, with some garnering as many as two dozen responses.
I'm touched by how many of you have used the stores and photos to talk to your parents and other family members about their memories. I've said on this site that we are alive only so long as someone remembers us. I hope that some of these pictures will help keep us alive.
1965 Girardot Ad Sellers and Business Managers
Why advertise in CentralHighSchool.com?
Cape Girardeau residents who have left town are extremely loyal to it. I've lived in four states and been gone from Cape twice as long as I lived in the area, but I still consider Cape my home and visit at least once a year. Based on comments I see on the Cape Girardeau Facebook Fan Page, I'm not unusual.
Central High School is having at least one class reunion this summer. Alma Schrader School is holding a 50-year homecoming this year, too. Many of those visitors are readers of CapeCentralHigh.com
Classmates who are coming into town look for
Lodging
Places to eat
Antique stores
Landmark buildings and businesses
General shopping
Transportation
1965 Girardot Ad and Book Sales staffs
What does CapeCentralHigh.com have that no other site has?
A reporter / photographer who worked for The Central High School Tiger, The Girardot, The Jackson Pioneer, The Capaha Arrow, The Southeast Missouri State College Sagamore and The Southeast Missourian between 1961 and 1967. After leaving Cape, I majored in photojournalism at Ohio University in Athens, OH, and worked for papers in Athens; Gastonia, NC, and West Palm Beach, FL., where I honed my photo and story-telling skills. That's what gives CapeCentralHigh.Com its high quality pictures and original, if quirky, writing style.
A collection of photographs of almost every major event that happened in the area during that period. One-Shot Frony, The Missourian's photographer, came to the school on assignment, but he didn't have the depth of photo coverage that I had as a student who was there every day.  (I was the only photographer to have a picture of stunned students watching the news from Dallas after JFK was shot.) Other students would occasionally freelance, but I was the only one who worked for both local papers as a staffer.
A strong marketing campaign. You can have the best site in the world, but that doesn't mean anything if nobody knows about it. I spend almost as much time promoting the site as a I do producing the content. As soon as I publish an article, I send out a Tweet, I post links on as many as half a dozen Facebook fan pages and a Google 60s group and I alert the alumni newsletters. To keep from looking like a spammer, I try to post at least two non-linked comments for every one that promotes the site.
What is Coffee Can Film?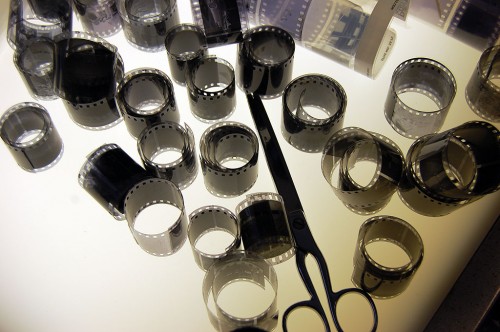 I have thousands of photos. Every time I open a film sleeve, I find something new. Most of the pictures have never been seen before because photo paper cost money and I printed only what I thought would be published.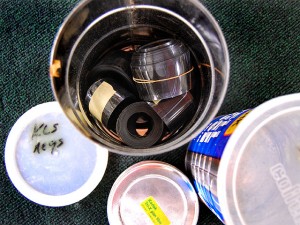 You've heard me talk about the Coffee Can Film. If I didn't think the photo had any significance, it would end up in a plastic garbage can under the darkroom table instead of being filed.
Eventually, I gathered up all the scraps and put them into two coffee cans, where they've been rolled up for close to 30 years.
Those are really interesting photos because they are frequently informal shots of family and friends in unguarded, unposed moments.
Here are stories that I have in the pipeline
A video on The Gh0sts of Central High School
Color photos from down inside the cement plant quarry before the columns were blasted out
Color photos inside the bell tower and a look at the pipe organ innards of the old Trinity Lutheran Church before it was torn down.
Proms, coronations and dances from every high school in the area and SEMO
Aerial photos of many landmarks
An interview and video with classmate Bill who is now known as Jacqie.
Current photos of the old Central High School on Caruthers (which has been converted to a junior high)
Photos of the new Central High School
A gazillion sporting events from every high school in Southeast Missouri.
Scores of photos of students, clubs, activities and plays.
Area landmarks, including the Wittenburg Bomb Shelter, the Mississippi River Traffic Bridge from every angle and at night, plus old and new pictures of Cape's major shopping areas.
Photos of major Southeast Missouri State University construction projects.
What would the ads look like?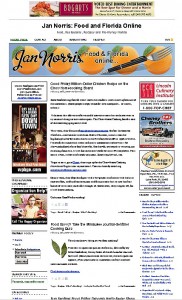 Jan Norris, the former food editor of The Palm Beach Post and a former coworker / bike riding partner, started a food blog about the time I cranked up my bike blog. She's been quite successful in attracting local advertising. (Something that she points out to me every time I tell her I have more readers than she does.)
Click on the photo to go to her page to see what her ads look like. (If you're interested in food, she's a fun read).
I'm going to revamp the look of CapeCentralHigh.com to make it more attractive and easier to use in the next week or so. The ads I anticipate selling would look something like the ones on her page.
Call to action: what do I want?
If you are a business owner, know a business owner or someone else who might like to have their name associated with CapeCentralHigh.com, shoot me an email.