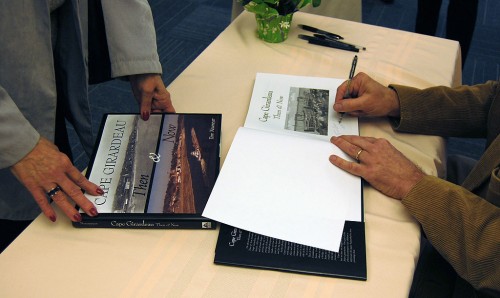 Some time between graduating from Central High School in 1965 and leaving for Ohio University in 1967, I hopped on a train in Cape Girardeau to go to a National Press Photographers Association Flying Short Course. I heard two things at that seminar that influenced my photography from then on.
Ken Heyman and This America
A photographer named Ken Heyman illustrated This America, A Portrait of a Nation, by President Lyndon B. Johnson. At that stage in my career, I thought any photograph that was published in a book had to be great. Looking back at it now, I know that some of the photos WERE iconic, some were solid images and some were merely pedestrian, at best.
Two photographers were sitting in front of me. One turned to the other and whispered, "I could shoot pictures better than that."
His buddy responded, "Yeah, but the difference between him and you is that HE actually did it."
Tom Neumeyer actually did it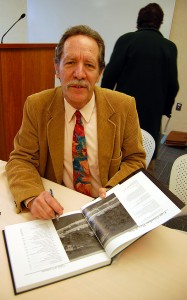 I've never forgotten that lesson.
When I got back to Cape a couple of weeks ago, those the words I heard at that seminar 40-plus years ago came flooding back at me when I heard that some guy named Tom Neumeyer was holding a book signing for his new photo documentary book, Cape Girardeau Then & Now.
It's a collection of 120 vintage photographs paired with what you would find at those locations today.
I COULD HAVE done that book. TOM did it.
When we went to Cape's new public library (which is really nice, by the way) and I saw framed photos from the book hanging on the wall, I knew I had to have a copy.
Small world department
The person who took my money was Carolyn Penzel, another member of the Class of 65.
When I got up to Tom to have my book signed, he recognized my name and asked how [Family nickname my wife has been trying to leave behind for almost half a century] was.
Just about that time, Don and Marty (Perry) Riley, my in-laws walked in.
Life's like a pinball game
I've always admired folks who know what they are going to do and go after goals in a straight line. My career path has been more like a pinball game where outside influences bounced me all over the place. I was reminded of that when I ran into a some people who had a major part in my life as a newspaper photographer.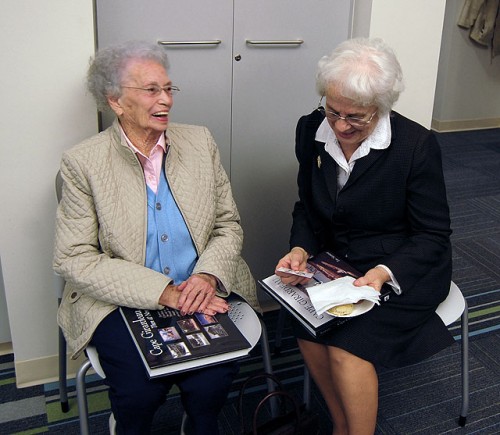 I saw my Mother, Mary Steinhoff, (left) talking with Jo Ann Bock, who is a multifaceted writer and former teacher who was married to Howard Bock. When I came to Central High School as a freshman, Mr. Bock knew I had an interest in photography. He invited me to join The Tiger and Girardot photo staffs and taught me how to process film and make prints. When he died in May 2009, I discovered many things I never knew about the man.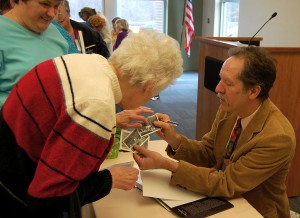 I was admiring Tom's photos on the wall when a man walked up and said, "I used to be Gary Rust."
"I used to be Ken Steinhoff," I countered.
Gary Rust, now a newspaper magnate, got me my first newspaper job. John Hoffman, the editor and publisher of The Jackson Pioneer had been in an auto accident that severely injured him and and killed his wife. Gary knew he needed help in the office, so he recommended me.
I think the recommendation was more because I had been dating the granddaughter of the local head of the Republican Party, and I was a rabid Barry Goldwater supporter, than it was for any journalistic prowess.
By the time I left the paper, I learned how to be a reporter, photographer, typesetter, layout editor, photo engraver… all for the munificent sum of $75 every two weeks.
There IS a market for photo books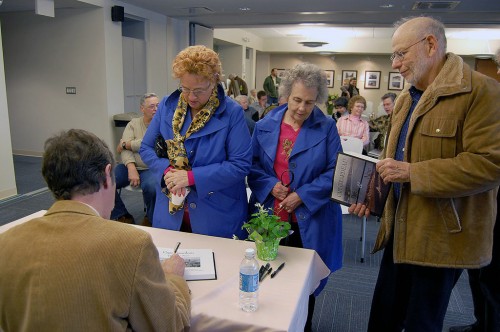 Years ago, I helped illustrate a book, New Burlington: The Life and Death of an American Village. The writer encouraged me to turn my photos into a book of its own, but I was told "picture books don't sell."
I'm glad to see that Tom is proving an exception to that rule. So many people bought his books that they had to scurry out to the car to bring in extra boxes.
Where to find Then & Now
I see copies of his book all over Cape. Here's a note he sent me with a list of places to find it.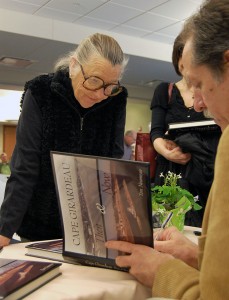 Arts Council of Southeast Missouri
Annie Laurie's Antiques
Back Porch Antiques
Broadway Books and Roasting
Convention & Visitors Bureau
Crisp Museum
Cup'N'Cork
Grassroots BMW
Lang's Jewelry
Mississippi Mud House
Neumeyer Photography
Old Town Cape
Renaissance
SEMO University Bookstore
Somewhere in Time Antiques
Stev-Mark
Tom said Dr. Frank Nickell's website has an order form to download.
What was that second thing?
I mentioned that I came away from that seminar in Peoria with two life-defining messages.
The second was from Louisville Courier-Journal photographer Bill Strode who talked about photo ethics. "If I set up a photograph and there are only two people in the room – me and the subject – then that's two too many people in the world who know that I'm a damned liar."
Gallery of book signing photos
One of the nice things about doing this as a blog instead of as a newspaper story is that I won't get in trouble if I don't identify all of the people in the pictures. Click on any photo to make it larger, then click on the left or right side of the image to step through the gallery.