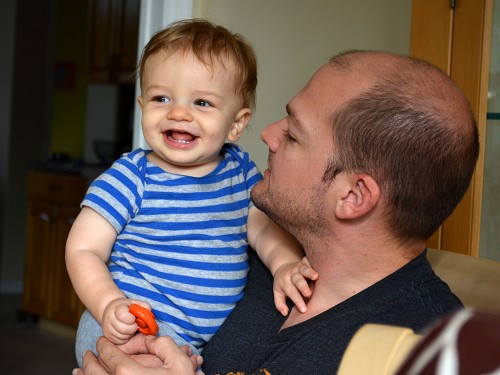 I made it back to West Palm Beach Saturday night, November 30, after leaving town on October 12. In that time, as I wrote last night, I drove 6,393.8 miles through Florida, Alabama, Tennessee, Kentucky, Illinois, Missouri, Indiana, Ohio, West Virginia, Virginia, North Carolina, South Carolina, Georgia and several side trips through the State of Confusion. I had Friend Shari as a road companion from Florida to Missouri, celebrated Mother's Birthday season with Wife Lila, and Brother Mark and his Fiance Robin.
After that, I headed out to Athens, Ohio, to do a presentation on the birth of the student rights movement with former OU Post colleague Carol Towarnicky. Athens Historical Society Curator Jessica, who just had to see with her own eyes if Missouri in any way came close to my stories, followed me back to Cape. After roaming around in SEMO for a couple of weeks, I made a pass back through Ohio, where I got snowed in.
I slept in Sunday, unpacked the van, had some belated (and very good) turkey leftovers, then headed out with Wife Lila to see the grandkids.
Grandson Elliot, loves hearing weird sounds, something that we Steinhoffs are very good at providing.
A flower for Gran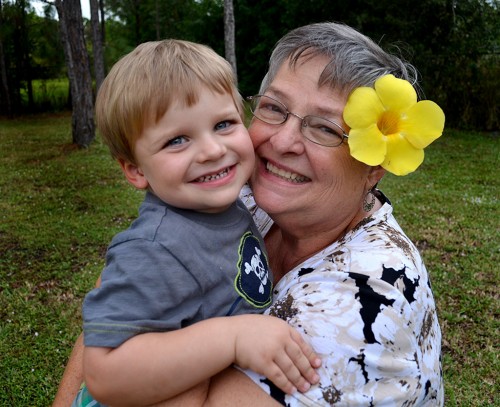 Grandson Graham picked up a flower off the ground in his backyard and insisted that Gran put it behind her ear. The kid is going to be a lady killer, I can tell.
When I told him that his grandmother had told me that he had grown a foot while I was gone, he held his legs out to prove that he still only had two.
It might be a caulking gun to YOU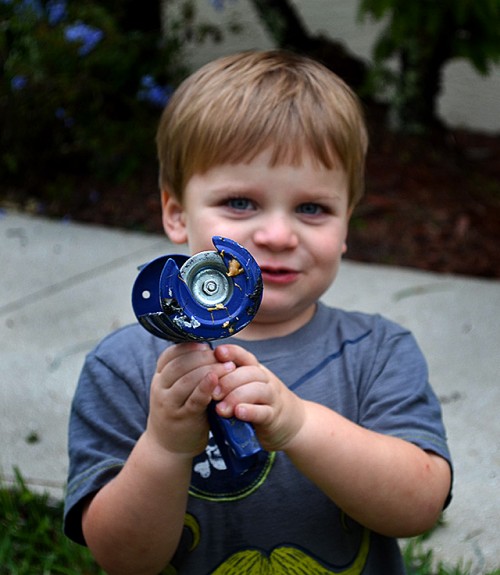 Don't let appearances deceive you. What looks like an ordinary caulking gun turns into a laser blaster in the hands of a 2-1/2-year-old. He also has a magic wand that turns his grandmother into a chicken. You will NOT see a video of that. I have no desire to be smothered in my sleep.
Malcolm concentrating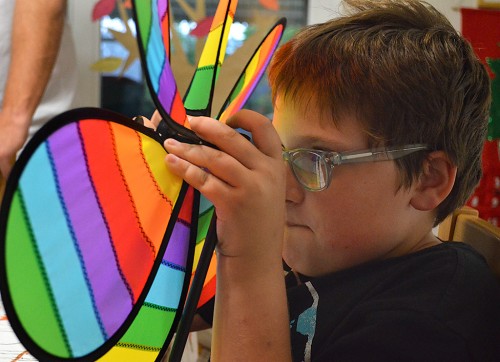 I bought these rainbow-hued twirly things in St. Louis on my last trip. I gave one to both West Palm Beach boys and one to Mother. A windstorm took Grandon Malcolm's out, so I brought him a new one. Here he is assembling it. He's a serious computer geek and reader. He can also feed you the last half of Groucho's line: "A book is your best friend outside of a dog." [Malcolm:] "because inside of a dog it's too dark to read."
Your cute is leaking away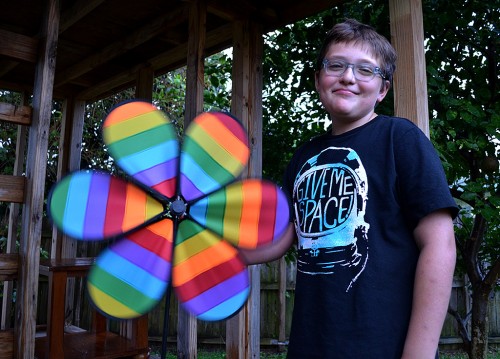 Here he is with the finished product. While I was shooting it, I warned him, "Sorry, kid, your cute is leaking away. You're going to look like a teenager soon."