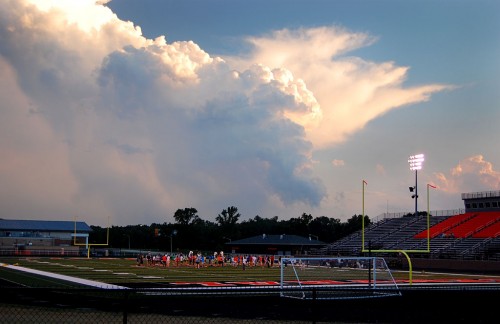 Wife Lila and I spotted some great clouds when we left dinner Thursday night. My car's still at the transmission shop, so she's driving a rental car. After shooting a dozen or so frames, I asked her to follow my cryptic directions to get to the new Central High School. When I passed it on I-55 the other night, I noticed the stadium lights were burning, so I thought maybe I could get a shot with them in the foreground and the neat sunset in the background.
When we got close enough to see the field, we noticed activity on the field – it was the Central High School Marching Band practicing for their September 2 opener. [Click on any photo to make it larger.]
You can't beat a three-fer
I had been thinking all day that I should do something to commemorate the first day of school. Here was a chance to get the first day of school, the new football stadium and a weather shot all at one time. (I'm saving the earlier cloud shots for filler when I'm on my way back to Florida.)
Lining up to practice last routine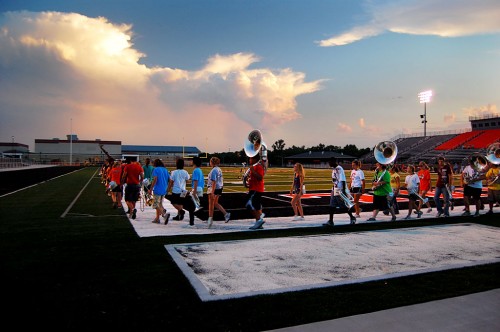 I got there just as the sun was setting and the band was getting set to practice their last routine. I'm pretty sure I recognized some of the kids from the Sikeston-CHS football game I shot last fall.
Band alums keep eye on practice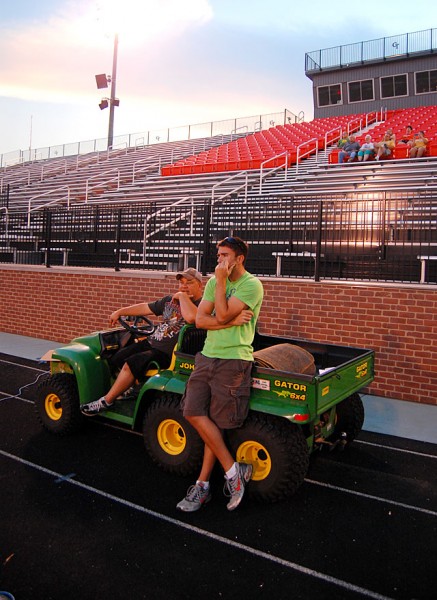 Former band members Billy Keys (seated) and Josh Lamar keep an eye on the green troops.
Band boosters like what they see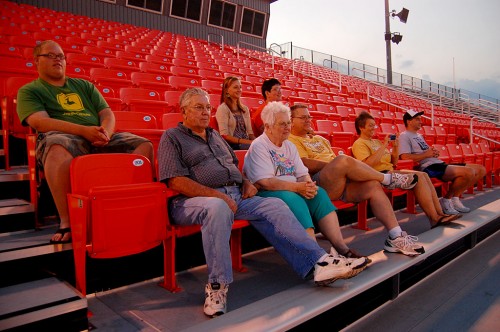 The woman in the front row, second from left, said she had three grandkids on the field.
Human lightning rod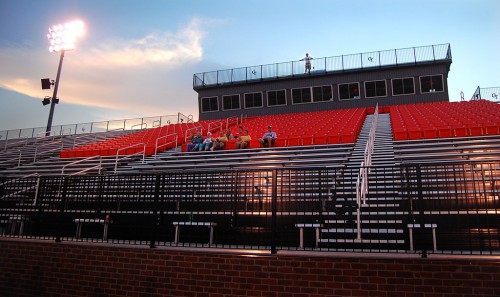 When I first got to the stadium, there was an occasional flash of lightning in the clouds way off in the distance. It was far enough away that you couldn't hear the thunder. Still, I was a bit uncomfortable as I was making my way across the metal bleachers. That's when I spotted the human lightning rod at the very tip-top of the press box. I figured it would get him before it got me, and I felt a little better.
The lightning rod turned out to be veteran band director Neil Casey.
Casey's in 29th year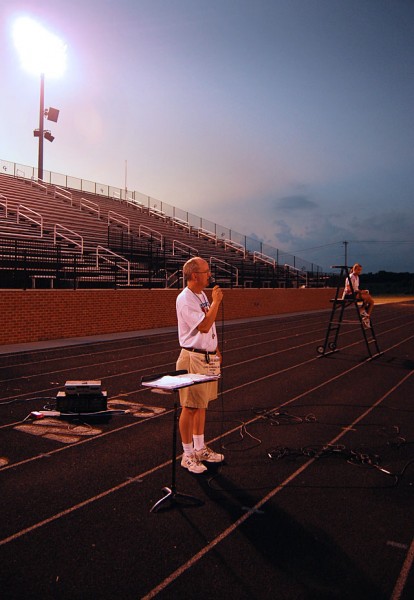 Casey has been band director since 1983. This is his 29th and final year, he said. He followed Bill Ewing, Tony Carosello and William Shivelbine.
Megan Peters, color guard coordinator, said that her group had been practicing together since July.25. The band started August 1. They explained that the musicians received their music earlier, so they could start working on their pieces individually. Megan's group has to be able to work together on their routines.
Marching Band Photo Gallery
Here's a gallery of photos of band practice. Click on any image to make it larger, then click on the left or right side to move through the gallery.