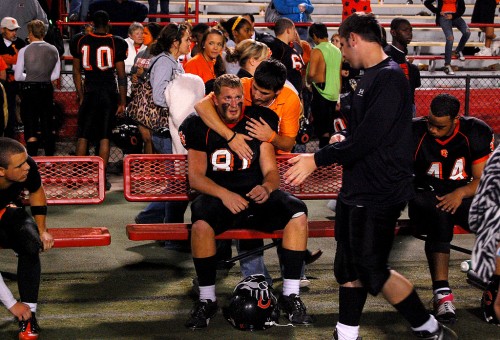 It's been more than 40 years since I last shot a Central High School football game. Maybe I should have passed on this one. According to news stories I've been reading, Cape and the Sikeston Bulldogs were undefeated for the season.
If I had to put bookends on the evening, the shot of a Tiger being consoled after the game would be at the back end and this shot of a Bulldog scoring the first touchdown would go on the front end. The Bulldogs scored in less than a minute, ending up with a 21-0 win.
Sikeston's first touchdown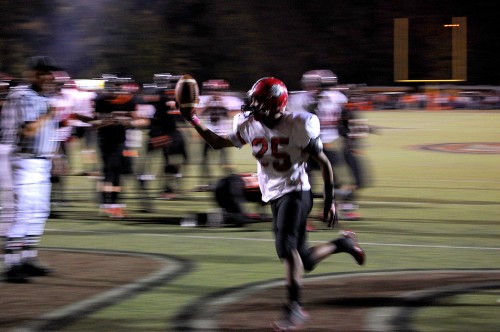 When I first started shooting sports, I was told a good photo was one that showed the ball, the player's number, his face and action. Oh, yes, and it should be sharp unless you were trying for an arty effect.
You're going to see a bunch of action shots here that bend that rule severely. I didn't have any long lenses with me, so I was limited in what I could get. I decided to put in some of the marginal shots because (a) it doesn't cost me anything and (b) somebody might recognize themselves.
Unpleasant flashback as the clock counted down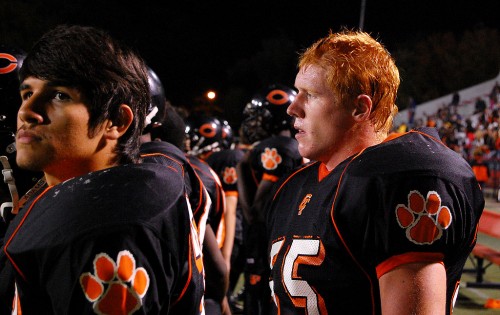 When I was shooting the final moments of the game, I had a scary flashback to a high school basketball game I shot in a small Ohio town. The game seesawed back and forth all evening. When the winning goal was shot at the buzzer, the losing cheerleaders started crying. Some of the fan objected to me taking pictures of that. I looked over at a local cop for support; he shook his head and said, "If they come after you, I'm out of here."
A touch of class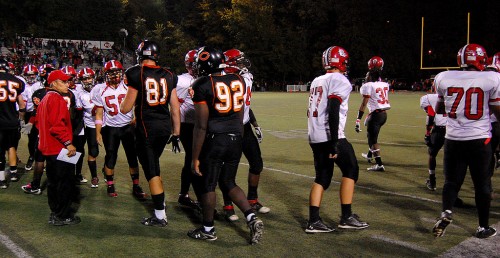 Missourian photographer Laura Simon captured Cape Central defenders Rodney Reynolds and Devin Rowett helping Sikeston running back Darryl Howard get back on his feet in the fourth quarter. I missed seeing it, but I'm glad it happened. That's the kind of sportsmanship you don't see often these days. I've covered high school games where the coach berated a player for doing something like that.
I was touched, too, when I saw several players not only shake hands with their opponents after the game, but embrace each other.
The Jungle was full of Tiger spirit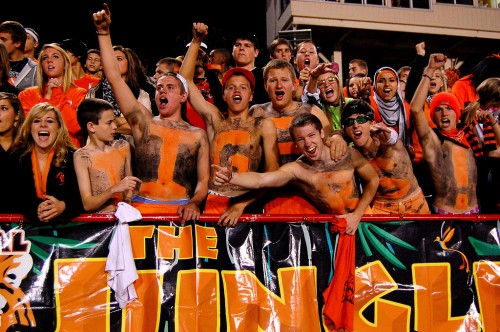 I always enjoyed shooting the crowd more than the game. One Friday night in southern Ohio, I shot the best football game of my career. It had all the elements: enthusiastic fans, raving coaches, a kid who set a record in about every category you could think, winning cheerleaders, losing cheerleaders, a great photo of two opponents shaking hands at the end, and the losing team leaving the field.
Ohio football crowds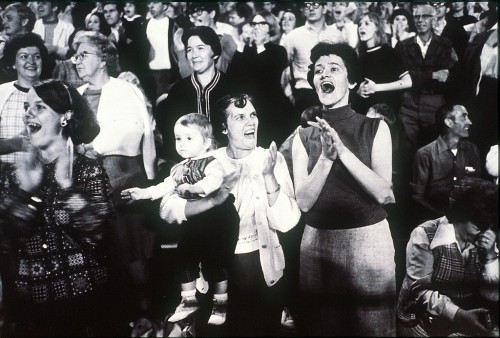 As it turned out, the sports editor ran a pedestrian action shot. On Monday morning, the published called me in to complain about our lackluster sports coverage of late. It gave me great pleasure to hand him the sheaf of photos I had taken at that game.
Did you hear her bell?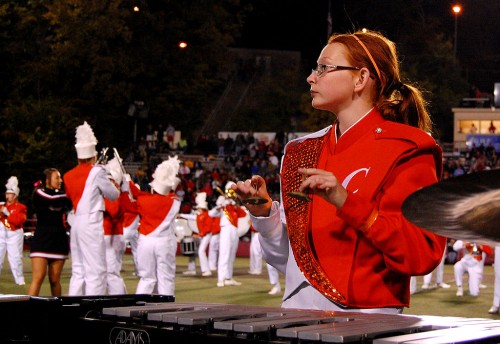 I was amused at the idea of the tiny bells being part of a band performance at a football stadium. (If those aren't bells, I apologize. I know less about music than I do about football.)
Photo gallery from Cape vs. Sikeston
The gallery is in chronological order, from pre-game, game, half time, more action, then game end. Click on any image to make it larger, then click on the left or right side of the photo to move through the gallery.
I wouldn't waste a lot of time on the game action photos unless you're looking for someone you know. I didn't have the lenses to zero in on the action, it's been over 40 years since I shot Central High School football and close to 20 years since I shot any kind of football.