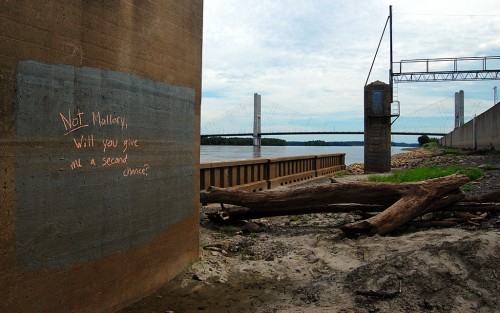 I'm a sucker for graffiti and unanswered question. I also like to watch people and try to make up stories about them to pass the time in airports and shopping malls.
Bro Mark and I used to play a game. We'd sit somewhere to gauge the interaction between two people at a nearby table. We'd watch their body language and try to determine if they were a new couple, a couple on a first date, if they were just friends, if they were headed for a breakup (or in the middle of the one at that moment). Once, to the dismay of someone who was with Mark, we flipped a coin to see who would walk over to the table to see whose theory was correct. His date won (or lost) the flip, but refused to go, so I was elected.
Of course, I reported back that my theory was correct: they were on a first date. That's why she was laughing at his jokes they were both learning forward toward each other and they were gazing deeply into the other person's eyes.
Unfortunately, I was wrong. They had been going together for some time. They were just disgustingly infatuated with each other.
Who is "Not Mallory?"
So, what's the story behind the chalked message "Not Mallory, Will you give me a second chance?" [Click to make larger.]

Did someone scream out the name "Mallory!" at an inopportune time with they weren't WITH Mallory? Is that why "Not Mallory" is being addressed?  Did "Not Mallory" give the person a second chance?
Speculation welcome.
In case you didn't recognize the location, that's the floodwall on the right and the Bill Emerson Memorial Bridge in the background.