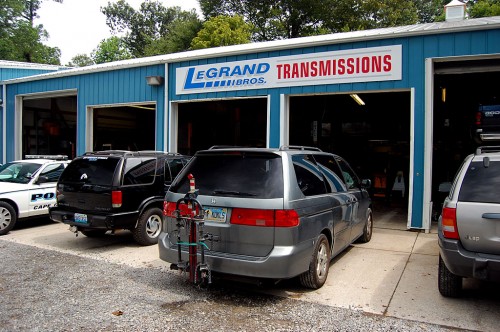 That gray 2000 Honda Odyssey van with a bike rack and a Florida Share the Road license plate sporting my amateur radio callsign was ready for pickup at LeGrand Transmissions Friday right before noon. I should get a lot better gas mileage on my way back to Florida because my wallet is $3,498.34 lighter.
The good news is that the rebuilt transmission is guaranteed for 50K miles or five years. That's one less thing to worry about. Now I can worry about the engine blowing up, the AC giving out or the wheels falling off.
Click on the Amazon ad, please
I guess now might be a good time to mention that Amazon ad on the left side of the page. If you normally buy stuff from Amazon, please click on that ad. It'll take you to Amazon just like you had gone there directly, but I get about 6% of whatever you buy without it costing you anything extra.
So, if you need to buy a tattoo kit with plastic practice skin (been done), a camera, a tire pump, pet food (got friends who do), or anything else that Amazon carries, please, click the ad to place your order and help me pay for my transmission. Oh, and don't worry. I get a report that shows WHAT was purchased, but I don't know WHO bought it.