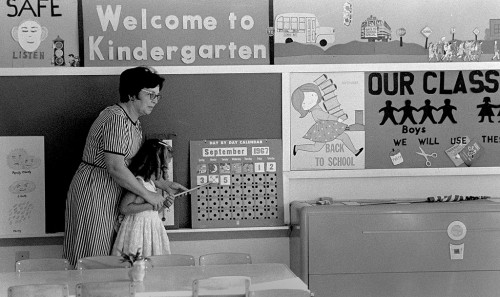 I  saw a story in The Missourian that Alma Schrader School is going to hold a 50th Anniversary Celebration March 11.
The school was on my old paper route. I guess the reason I always thought of it as being a "new" school was that it WAS new – only a couple of years old – when I was slinging newspapers in the neighborhoods around it.
I don't have any pictures from when the school opened, as far as I know, but I was there for what I assume was the first day of school on Sept. 6, 1967, if my film sleeve label is correct. I'm also guessing that this is a kindergarten class, based on the signs.
This poor boy never had a chance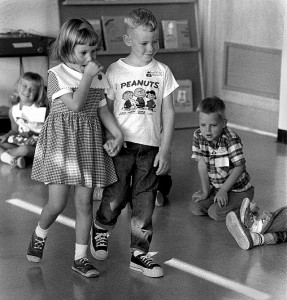 I'm going to bend the rule that "good photographers never show their bad pictures" by including some that are a little on the marginal side. You may spot yourself, a sibling or a neighbor and won't mind if the exposure is a little off or it could be sharper.
The difference between boys and girls
Gender differences show up even in kindergarten. The boy has this "Oh, my god, I've got a girl hanging off the end of my arm" look on his face. His buddy on the right is thinking, "Neat sneakers."
The girl in the background is placing an imaginary order for her bridesmaid dress.
Who was Alma Schrader?
It dawned on me that I've said or written Alma Schrader School scores of times without wondering, "Who the heck is Alma Schrader and what did she do to get a school named after her?"
It's almost like memorizing someone by naming something after them turns them into a phrase instead of a person.
The Missourian had a long front page obituary for Miss Schrader when she died January 15, 1959. She taught in Cape Girardeau for 50 years, including serving 34 years as principal at May Greene School. (Quick pop quiz: who was May Greene?)
Miss Schrader was born in 1886, the daughter of a shoe cobbler who had a shop on North Middle. She started her teaching career in 1906 at Old Lorimier School, where she taught for three years. She spent three years as a teacher at the old Jefferson School at South Ellis and Jefferson; she was promoted to principal, a post she held until 1921. When the new May Greene School opened in 1921, she was named the school's first principal. She continued to work with the school system after her retirement in 1956.
UPDATE to Alma Schrader Celebration
Follow this link to see pictures from the 50th Anniversary Celebration.
Gallery of Alma Schrader School Kindergarten Class 1967
Click on any picture to make it larger, then click on the left of right side of the photo to step through the gallery.