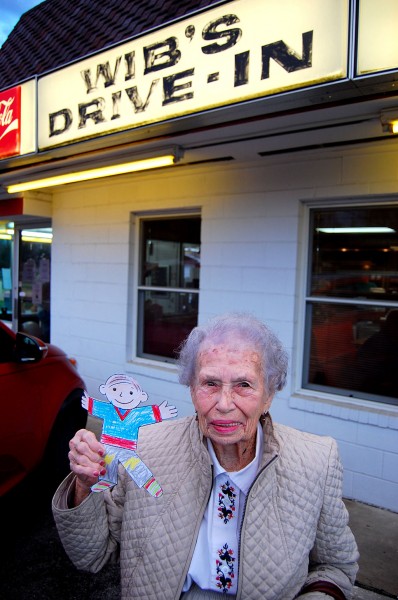 We went to Wib's BBQ in Jackson tonight. It gave us a chance to help Grandson Malcolm with a school project. He sent Mother "Flat Stanley," a storybook character who was smashed "flat as a pancake" when a bookcase fell on him. He was, in fact, smashed flat enough that he can fit into an envelope and go all over the world having his photo taken in exotic locations – like in front of Wib's. After we shot this photo, we went inside where I ordered two Brown Hots, french fries and slaw; Mother had chili (which she always complains is too spicy.)
When the server came by to see if everything was OK, I gestured for him to lean in, then said, "I think the kitchen made a terrible mistake with my order."
He look properly concerned.
"They put meat on my sandwiches," I replied.
Wib's has the best sauce in town, but I think they must still be on the original pig they started the business with in 1947. There was a whole staff of young folks working there tonight and I think the cook must have a lighter thumb on the scale than the usual one.
North County Park Christmas Display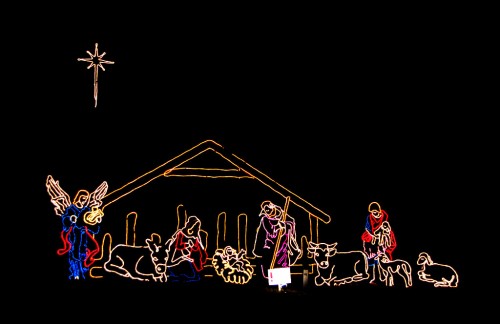 On the way back from Jackson, we stopped at North County Park to check out the Christmas displays. I'm not sure how many years they've been doing this, but it's become a local must-see.
Some of the displays are very nice. Some are very imaginative. Some are, to be honest, tacky, particularly some of the commercial ones. More and more of them are memorials to family members who won't be there for another Christmas. Those are touching.
Bumper to bumper traffic

We got there right after dark, so it wasn't too congested. By the time we left, though, cars were streaming into the park. It's considered good form to drive with just your parking lights on, but this car broke the rules (and I think him for giving me a little extra light on the scene).
One minivan in front of us had me perplexed. I could see through the back window that they were playing a kid's movies on a DVD player mounted near the ceiling. Now, maybe I'm old-fashioned, but don't you think it might have been appropriate to shut the thing off for 15 minutes and tell the kids to look out the bleeping window at the real world?
Past stories with a Christmas theme
Photo gallery of Christmas display
Here are other photos from the evening. Click on any picture to make it larger, then click on the left or ride side to mover through the gallery.