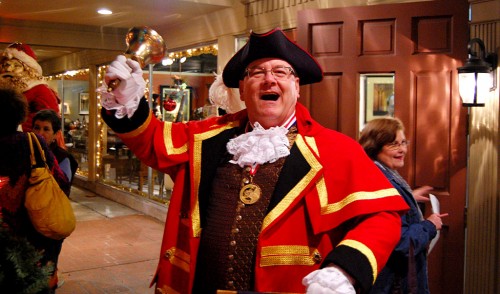 I was whining to Brother Mark this evening that I was sleepy and didn't have any idea what I was going to post in the morning. He suggested I go looking for Christmas lights and decorations. Mother and I needed to make a quick run to the grocery store, so we headed out. I figured Hutson's traditional display would be a sure bet. We pulled up just as Town Crier Darryl Morgan and his escort, Betty Morgan, made an appearance in front of the store. Bingo! Early bedtime.
Sky cooperates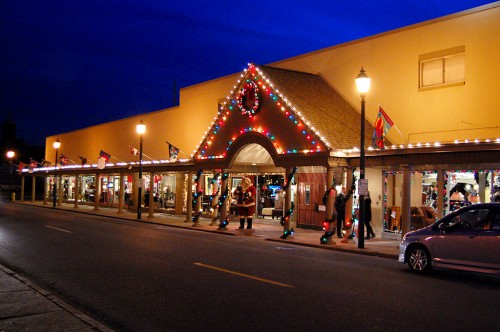 When I made my first frame, it was yellow like the world had been eating carrots. Recognizing that most the light was coming from incandescent light bulbs, I went into the Nikon D40's menu and switched Color Balance from Automatic to Incandescent and dialed in the maximum amount of color correction. I could have done the same thing in PhotoShop, but it's better if the quality is at least close before you start playing around.
The sky had a natural blue cast at sunset, but the menu correction I did boosted the blues even more. (That's the last of the photo geek-speak.)
One of those Cape coincidences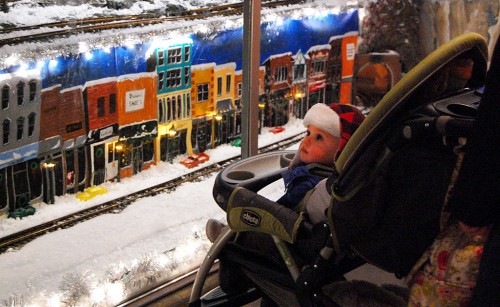 Here are some of the folks I ran into (you can see them in the gallery):
Abby Meyers, 5, and her grandmother, Melody Hutson;
Simon, 7, and Ben, 5, Edmunds along with their dad and grandmother.
Montgomery Bank bell ringer Becka Hollis
I was ready to call it a night. I looked around one last time and saw a toddler in a stroller who looked just a little older than my 8-month-old Grandson Graham. I grabbed a couple of frames under some miserable light at a super low shutter speed. He was grooving to the music, so I was afraid they'd be blurry. Since I had gone to that much trouble, I asked his mother his name and gave her a business card.
Terra Hendrickson looked at the card, then she looked at me, said, "You sat next to us on an airplane." Indeed, she was right. Tarra and Roscoe – now a year old – were seatmates on Cape Air at the end of July. They were on the way to see hubby Karl's parents in Alaska. I was en route to St. Louis, West Palm Beach and Seattle. She had lost the card I had given her on the plane, so she had never seen the photo of her and Roscoe that ran then.
Old Town Cape Christmas ornament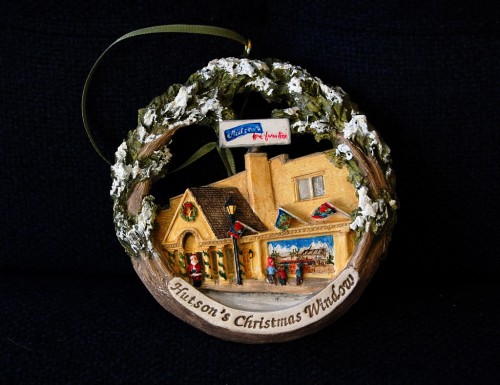 Old Town Cape chose Hutson's Christmas Window as the 2011 ornament. The ornament looks pretty much like my photo (but my sky's prettier).
Hutson's Christmas Display photo gallery
Click any photo to maker it larger, then click on the left or right side to move through the gallery.