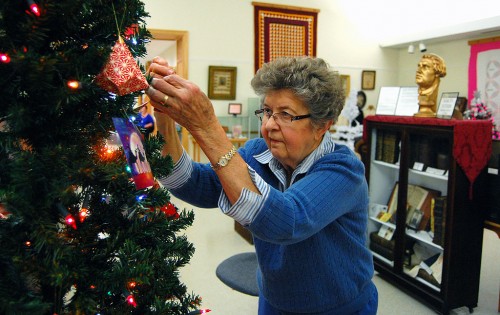 I stopped in at the Lutheran Heritage Center and Museum in Altenburg this Wednesday afternoon to talk with museum director Carla Jordan about a possible project. I noticed folks like Lillian Fiehler buzzing around getting this year's annual Christmas Display ready for the weekend.
Dressing for Christmas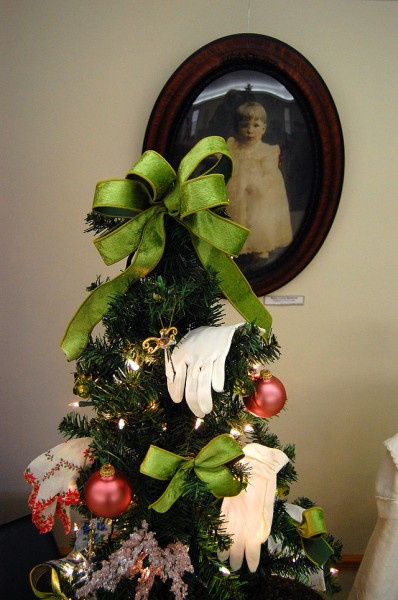 Many of the trees are themed, like this one entitled Dressing for Christmas, which is decorated with gloves and hankies. This is a great place to get decorating ideas that are simple and not expensive.
Top ornament came from Walmart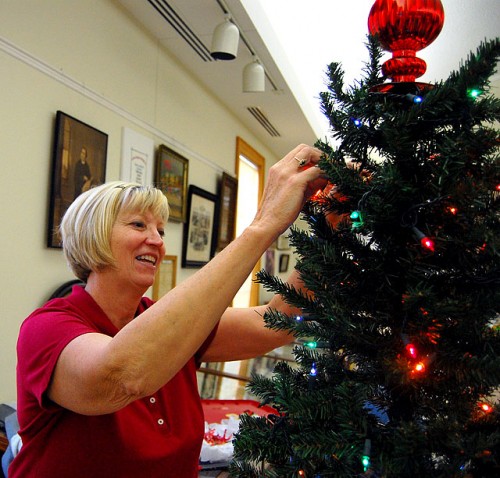 I was admiring the red ornament that topped the tree Carolyn Schmidt was working on. "It came from Walmart," she confided. They're not afraid to mix the old and the new if the overall effect works.
Scherenschinitte Tree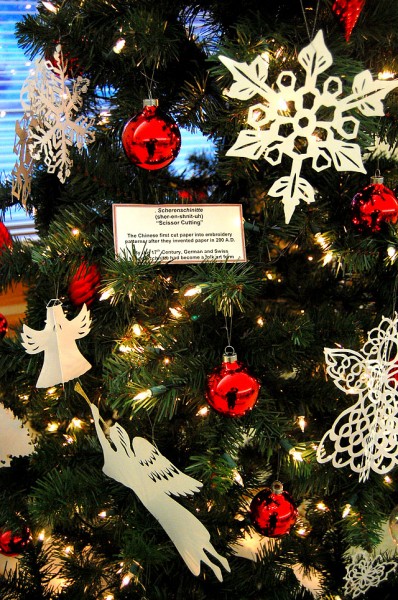 "I'm glad there's a label on this thing," I told Carolyn when she introduced me to the Scherenschinitte – Scissor Cutting Tree. "If that wasn't there to back you up, I'd think you were trying to trick me into running some kind of German cuss word."
Why the donkey is brown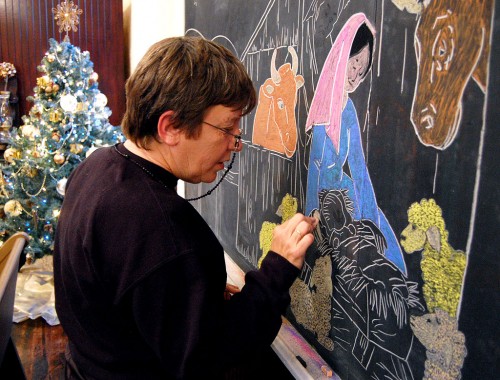 Autumn Hughey was doing a masterful job of coaxing beautiful colors out of chalk to draw a Nativity scene. "In case you were wondering, the donkey is brown because I didn't have any gray chalk." To be honest, I hadn't even noticed, but that's the answer in case YOU were wondering.
Display up through January 15
Carla said the display should be complete by this weekend. It will be up until January 15. If the first trees are any indication, it's well worth the drive to Altenburg. To see another example of the quality of their exhibits, read my piece on the Vintage Hats of Perry County from this spring. There's a map on the page, too.
The Lutheran Heritage Center and Museum's website has more information.
If you go, tell them I sent you.
German history course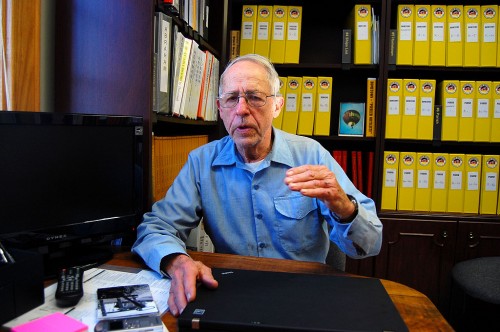 I've never been to the museum when I haven't run into an interesting character. Wilmar Degenhardt, 85, looked at an aerial photo I shot in the 60s and exclaimed, "That's the farm I grew up on until I was 18-1/2!" For the next hour, he lectured on the early German settlements and German history in general. He crammed in more information than you'd get in a college class. I was afraid he'd hand me a Blue Book and make me write an essay on what he had covered.
Photo gallery
Here's a sneak peek at the early stages of the Christmas display before all of the trees were up. Click on an image to make it larger, then click on the left or right side of the photo to move through the gallery.