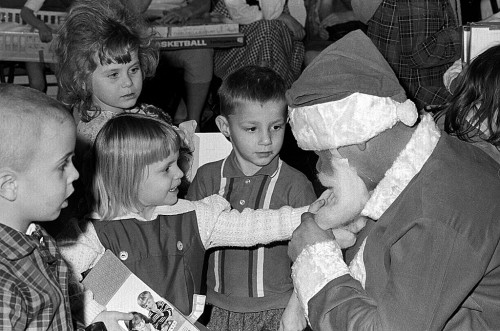 The caption under this photo in the Dec. 17, 1966, Missourian said "Santa Claus – particularly his beard – proved almost as interesting as the gifts he distributed to the children at the annual Christmas party given Friday night by the Illmo-Scott City Junior Wives for children of that community. In the picture above, Kim just can't keep her hands off Santa's beard. Her little friends watch in fascination, waiting for their chance to steal a stroke of the silky hair. The party, given at the junior high school gymnasium in Illmo, was attended by 124 special guests.
That's the only photo that ran in the paper, but here are some that didn't make it into print.
Wide-eyed wonder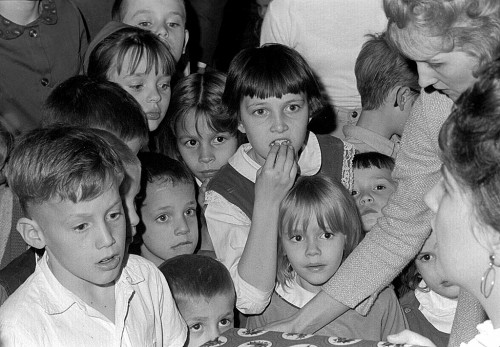 I think I know why the kids have these expressions. That's the scariest Santa Claus I think I've ever seen.
Beard, not face, gets the attention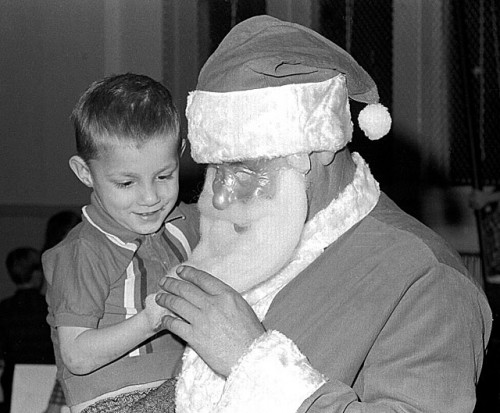 Fortunately, Santa's beard got all of the attention. I don't know that I ever shot another Santa that wore a full-face mask,.
Santa has great personality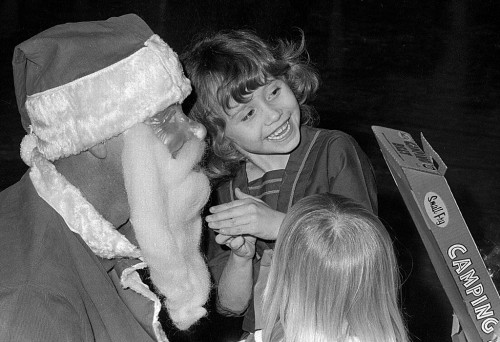 Despite his scary appearance, Santa had a great rapport with the kids. The 124 children were guests of the 15 Junior Wives Club and their children.
The story said that a decorated Christmas tree flanked by large candles appointed the room. A film, "The Littlest Angel," obtained from the Riverside Regional Library was shown, games were played and carols sung.
Gift boxes as large as the children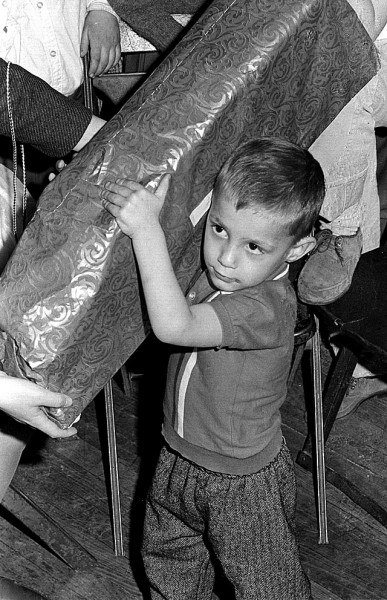 Some of the children received gifts almost as large as they were. In addition to the gifts, the children also received bags of candy, fruit and gum.
Club members said about $350 was spent on the party. The money was raised at the Junior Wives annual benefit social, held in October, and other club projects during the year.
Photo gallery
Here's a collection of photos from the event. Click on any image to make it larger, then click on the left or right side to move through the gallery.