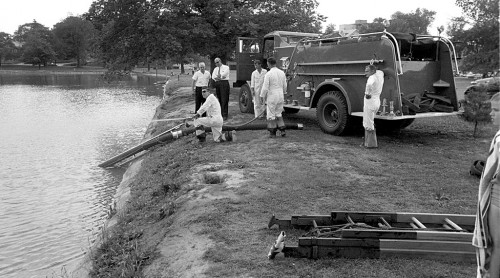 The negative sleeve says "airport fire truck 6/12/67." The Missourian didn't have any stories about it for a couple days on either side of that date, so I assume it was just something I spotted and snapped off nine frames before moving on. (Click on any photo to make it larger.)
Looks like they might be practicing drafting water from the Capaha Park Lagoon, a common practice for rural fire departments without access to fire hydrants. The firefighters drop 10-foot lengths of hard suction hose with a strainer on the end into a pond or other water source, then use the engine's pump to either fill the engine's water tank or distribute it through smaller diameter hoses to fight the fire.
Water supply is critical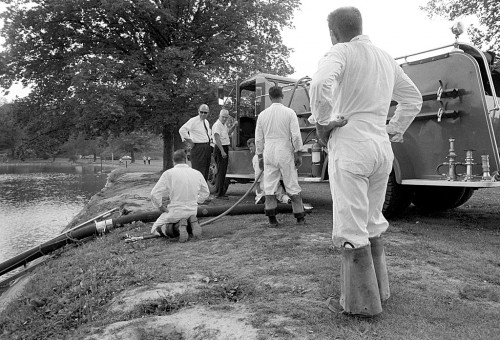 If the water source isn't close to the fire, then the water has to be shuttled from the pond to the fire using a series of trucks. For long distances, two or more pumpers could be spaced out over a long run of hose to boost the pressure. That takes a LOT of hose and a lot of manpower. That's one reason why rural volunteer fire departments were called "chimney savers." By the time they could get to a fire, establish a water supply and a resupply, too often a chimney would be the only thing left standing. That's not to criticize the firefighters who were putting their lives on the line; it was just a fact of life.
Even hydrants fail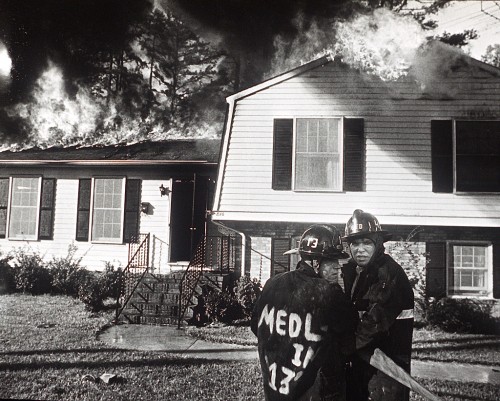 Murphy's Law works in town, too. These two Gastonia, N.C., firefighters are looking down the street for the surge of water that's going to charge their hose. It never came. There was a problem with the nearest hydrant. By the time a supply line was laid from the next nearest hydrant, the house was a loss. You can tell from their expressions how frustrated they were.
Fire-related stories