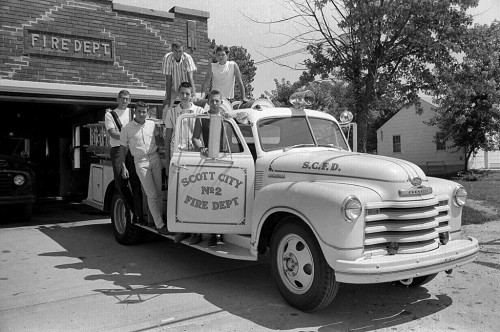 I was going through some of the unlabeled coffee can film this afternoon when I ran into this shot of six young men posing on a fire truck. It's about the size of what we would use for brush fires down here, but I see it's got ladders and hose reels, so it might have been all Scott City needed for general purpose fire fighting.
The guys look pretty young. I wonder if it might have been an Explorer Post? I'm guessing it was taken in 1966 or 1967. Click on the photo to make it larger.
UPDATE UPDATE UPDATE
I found the original Missourian story that ran August 7, 1965, on the Youth Page. The boys are members of the Illmo-Scott City's Second Fire Department. They are, bottom row, from left, David Hahs, Mark Hillemann, Cecil Page and Jerry Paul Dunger, chief; top row is Thomas Clymer and Don Underwood.