Marquette Natatorium 10/20/2009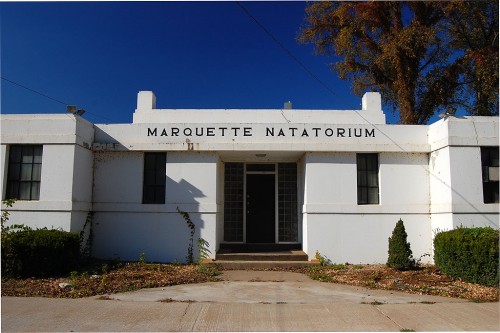 When I was in Cape in Fall of 2009, I made a swing by the Marquette Natatorium down by the cement plant. Wife Lila was interested in seeing the place because she, Jacqie (Bill) Jackson (66) and Dan Beatty (67) worked there as swimming instructors and lifeguards in the late 1960s.
My wife's niece, Laurie Evertt (of Annie Laurie's Antiques), mentioned that the Natatorium was one her favorite places. She sent me an email the other week that she was afraid that they might be getting ready to tear it down because there was some kind of work going on there.
Marquette Natatorium 01/29/2010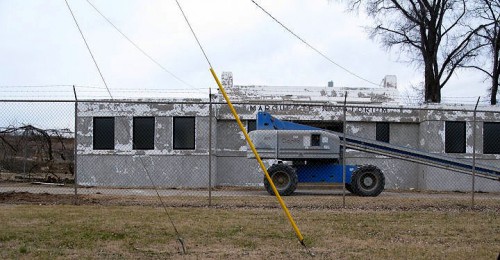 Today she sent me an photo that makes it look like the building is being pressure-cleaned, maybe to be repainted. That's not the kind of work you do if you're going to bulldoze it. Laurie apologized, unnecessarily, for the quality of the picture: "I had Fletcher (her toddler son) screaming in the car, so I did a drive-by."
Natatorium Historical Factoids
I think I swam in the pool only one time. Still, I've always had an interest in the place. A natatorium, by the way, is defined as a structurally separate building containing a swimming pool.
The Southeast Missourian is a treasure trove of little factoids.
A city permit was issued to build the 70x 94-foot structure at a declared cost of $25,000 in 1937. It was to be located at the site of the former Marquette School Building. It was to be built of reinforced concrete, the roof would be concrete slab and the steam heating plant, wiring and plumbing would be included in the cost.
The Natatorium, built for the use of cement plant employees, was placed in service Feb. 16, 1938.
The July 14, 1938 Missourian proudly announced $330,362 in building construction for the year, including the following new buildings or expansions: St. Mary's School, Lorimier School, the Natatorium, a new addition to the Rueseler Motor Company, the Jewish Synagogue and an expansion of the Buckner-Ragsdale building.
July 30, 1946: all swimming pools in Cape were temporarily closed until further notice and parents were urged to keep their children from swimming in ponds and creeks because of an outbreak of polio. Gerald Perry, 10, was taken to a St. Louis hospital after his left arm and shoulder were paralyzed. He was in a ward with two others. Twenty-seven youngsters were in a an isolation ward; three of them were in iron lungs.
Apr. 3, 1968: Cape department of Recreation acquires Natatorium and plans to keep pool open year-round. Mrs. Wm. Shambo, who conducted swimming clinics on Tuesday and Wednesday mornings, said water ballet, additional swimming classes and public swimming would be added to the program. Water temperatures were to be maintained at 85 degrees.
Jan. 9, 1969: The city council ruled that the Natatorium would be open to Cape residents during the winter months again. It had been closed because of poor attendance. Only 200 swimmers used the pool in December, bringing in $72.50 in income; operating expenses are about $1,000 a month.
What is it used for today?
I couldn't find any recent stories about what the building is being used for. At one time, I heard rumors that the pool had been floored over and the building was being used as housing for cement plant visitors. Later, I heard that it was being used for office space. I'd have to give more credence to the latter.
Anyone know the REAL answer? How many of you remember swimming in the Natatorium, either because your family worked at the cement plant or after the city took it over?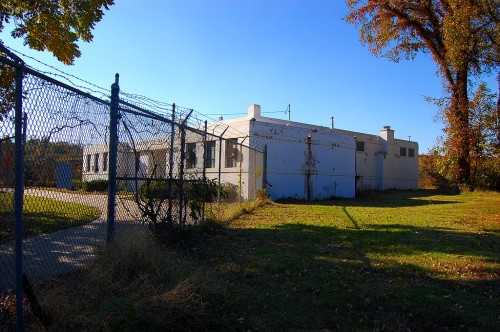 Updates
Click on the gray links to read them.
Here's what the Natatorium looked like after its first coat of paint. The next day the job was finished when the black accents were added to the name.
Fred Lynch featured the Natatorium in his blog April 12, 2010.