An invitation from assistant principal Wayne Goddard to join his Social Club – detention – was something no Central Student wanted. He played the bad cop to Principal Fred Wilferth's good cop, although, truth be told, I never heard anybody speak ill of him.
Coach, Navy vet, All-American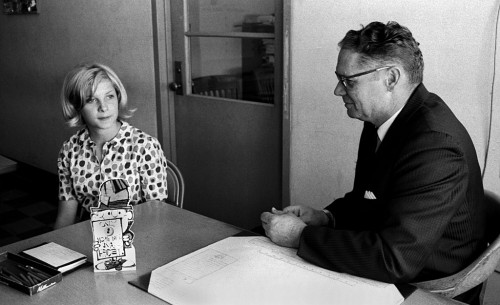 The Class of 1965's reunion booklet had a page in the back that read, "Not one student that attended Central while he was there as assistant principal, did not live in fear of 'Big G.' However, anyone who dealt with him on a one-to-one basis knew Mr. Goddard to be fair, without malice and always looking out for the students' welfare and moral character."
I guess I should have surmised from that that Big G must have moved his Social Club on to another plane, but it didn't register. When I did a search of The Missourian's archives, I was surprised to see that he had died Sept. 22, 1984, at the age of 70. He always seemed like one of those guys who would be around forever.
He was born June 9, 1914, in Anna, Ill. He graduated from SEMO in 1939, where he earned All-American honors in football in 1937 and participated in track. He was a Navy veteran, having served during World War II and the Korean War. Mr. Goddard was head football coach at SEMO from 1947 to 1951. The SEMO State University Goddard Football Award for the best offensive lineman is named each year in his honor.
His obit said he married Martha Male on Dec. 3, 1939. Survivors at the time included his wife, one son, Hal W. Goddard, Jackson; two daughters, Mrs. Helen Harris, St. Louis, and Mrs. Kathy Barry, Advance; two brothers, Craig Goddard, Chicago, Ill., and Byrl Goddard, Carbondale, Ill.; and two grandsons.
Wayne Goddard news stories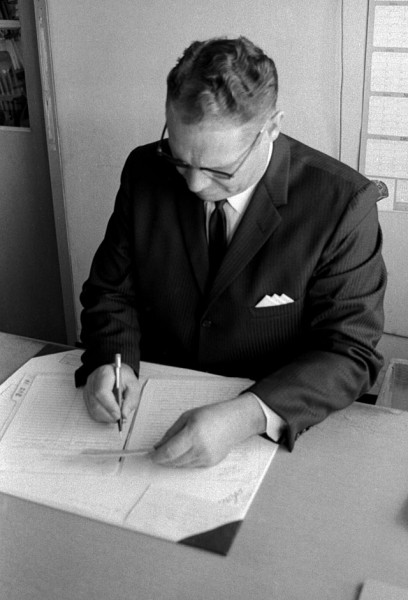 There were scores of clips about Mr. Goddard, but most of them were routine sports wraps. Here are some that rose above the average. I particularly like the first one. I can just hear him growling that comment.
Oct. 13, 1947 – When the State College Indians dropped their opening game against the Warrensburg Mules in 1947, "Coach Goddard's curt comment on the game was to the effect that the Indians displayed about the poorest exhibition of blocking and tackling he had ever witnessed. He said the Mules' line outplayed his line from start to finish. He intimated that he may start at least eight freshmen against the Kirksville College Bulldogs. 'If I can't get football out of the older boys, I might as well start building for the next season,' he said."
Oct. 27, 1947 – Mrs. Wayne Goddard and son, Hal Wayne, 2000 Thilenius Street, were dismissed from Southeast Missouri Hospital. The child was born Oct. 17.
Feb. 6, 1952 – Lt. Wayne Goddard, due to report for active Navy duty and assignment to Guam next month, announced today his resignation as coach of State College and his retirement from the coaching field. "I want to thank every football fan and Southeast Missouri State College for the cooperation and support of the team during my work at the college. I'm truly sorry that I've been unable to win more regularly than 41 per cent of my games, but the thoughtful consideration given me has made the work more enjoyable than the record indicates. I hope the new coach will never lose."
Apr. 14, 1958 – 12 Records Fall as Cape State Beats Team from Arkansas: In the high jump, John Lorberg of Cape and Stegal of Jonesboro tied for first with a leap of 6 feet 1-1/8 inches, which broke the record of 6 feet 1-inch held by Wayne Goddard of Cape, since 1936.
Feb. 20, 1962 – Wayne Goddard, assistant principal at Central High School, said students heard the space shot [John Glenn's flight] over radio. No, he didn't want to be the next astronaut to the moon. "I've gone to sea too many times and got sick too many times."
Apr. 27, 1962 – Hook, Line and Sinker column: Wayne Goddard and his son, Hal, had a trotline out on the Brockmeyer pond north of Cape. Their single catch was a whopper, a 14-pound cat that stretched 29 inches.