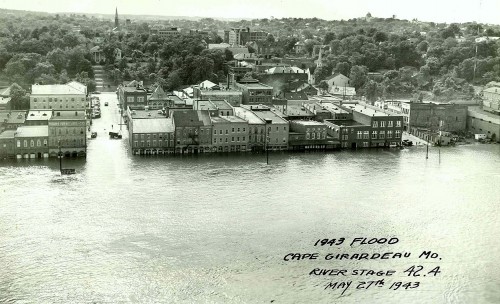 After I ran photos of the Flood of 1943 from Dad's scrapbook, a member of the Lamkin Family sent me this aerial photo of the flood. I asked who took it so I could credit the photographer, and he said, "No idea.  It hung in my grandfather's office for as long as I recall."
Themis Street is on the left and Broadway is on the right. You can see the steeple of Trinity Lutheran Church and the Academic Hall dome in the background. Buckner-Ragsdale is the three-story building on the right, at the foot of Broadway. The St. Charles Hotel is the tall, light-colored building on the left side of Themis. The building with the checkered tile and sharp-peaked roof is Hecht's Department Store. The Sturdivant Bank Building is between the St. Charles and Hecht's.
Click on the photo to make it larger.
Here are some earlier stories about Buckner's and the Lamkin family.