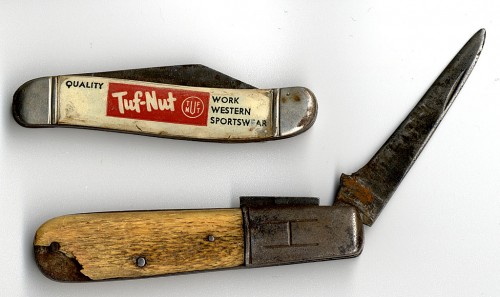 I've got a small wooden box on the dresser where I keep "heirlooms." Any thief who mistakes it for a jewelry box is going to be disappointed. Well, now that I think of it, it has three rings in it: a Cub Scout ring, a Boy Scout ring and my Philmont Scout Ranch ring.
Tuf-Nut knives came from Buckner-Ragsdale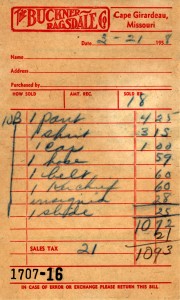 It also contains these two knives. Probably every boy in Cape had at least one of these Tuf-Nut knives. They came with blue jeans bought at the Buckner-Ragsdale store on the corner of Broadway and Main Street.
Have you earned your "Totin' Chip?"
The Tuf-nut and the Boy Scout knife that dangled from a belt clip were rites of passage. You were supposed to have a "Totin' Chip" before you could use any wood tool like a knife, saw or axe.
The wooden-handled pocket knife was a gift from my Grandfather, Roy Welch, when I was about eight years old. The handle was chipped when I got it and the blade had been sharpened so many times that it was about a third smaller than when new, but I still treasured it.