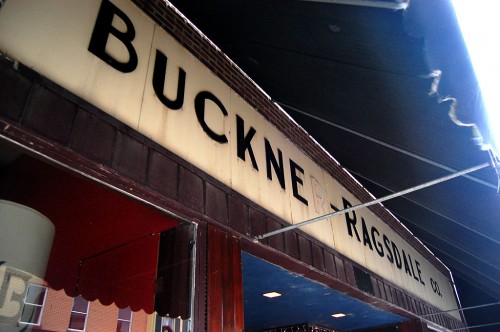 Let's get the big question out of the way first: the pneumatic tubes that whisked your money to and from the cashiers are gone. Not a trace of them remains, the owner said.
This isn't the definitive story on the Buckner-Ragsdale building, by the way. I just knocked off a few shots when I stopped by on another errand. We'll do it up right on the next trip.
UPDATE to original story about Buckner-Ragsdale
I won't need to do the definitive story on the long-time Cape business. Reader JTL left this link to the Lamkin family website.
Be sure to follow this link to advertisements, photos of the store and its employees and all sorts of historical information. This will take you back to an era where customer service was a reality, not a buzzword.
"Messrs. Buckner, Ragsdale & Lamkin built the store upon and retained those principals of  retailing that placed the customer first.  Services such as free alterations, free delivery, no interest credit, free gift wraping and an in depth knowledge of customers maintained in the memories of the large and loyal sales staff differentiated Mainstreet retailing from the Sears catalog.  During the 1970s, marketing professors at Southeast Missouri State College often used Buckners as an example of an antiquated, not numbers oriented retail establishment.  It was, without apology.  Those inculcated with modern retailing practices might try this experiment.  Call the  Macy's salesperson most knowledgeable of your personal preferences and say, "I'm going to a Texas Hold 'em party tonight.  You know what I like.  Send me five dresses/coats/pairs of shoes on the afternoon delivery, and I'll pick one.  I'll return the others sometime next week, and pay for the one I keep maybe next month."  What response would one receive for this once standard 60's request?"
Buckner-Ragsdale photo gallery
These are details I thought were interesting on a cold, rainy, blustery day. It don't take me long to lose interest when icy water is dripping down my collar. Click on any photo to make it larger, then click on the left or right side to move through the gallery.