Warning: this story isn't about Cape and it's not about anything old. In fact, it's just the opposite. It's in Jackson and it's something new.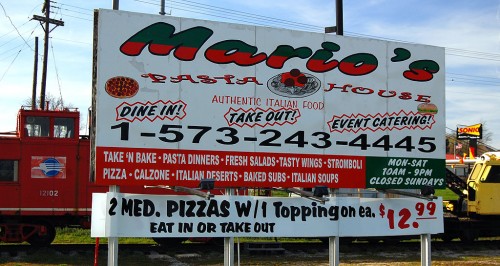 My mother and I noticed a lot of cars around a building at the intersection of Highway 61 and 25 just as you come into Jackson. It's near where you board the trains of the St. Louis Iron Mountain and Southern Railway for excursion rides, so we assumed that's what it was.
On another pass, though, we noticed this sign and decided to give it a shot.
Mario and Doris Grippo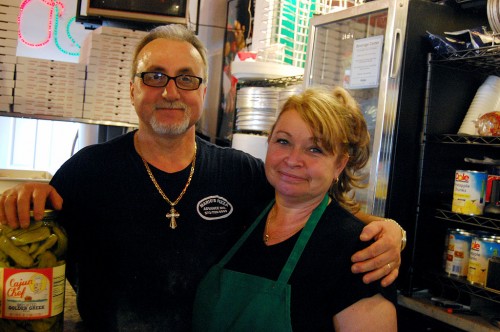 Mario Grippo came to the New Jersey from Italy 37 years ago and and has been in the food service business ever since.
After spending most of three decades in New Jersey, he came here and opened Italian restaurants in Marble Hill and Advance – "We were on a farm, literally on a farm in Advance," his wife, Doris chimed in. They decided to move their operation to 252 E. Jackson Blvd. a couple of months ago.
Next to Iron Mountain Railway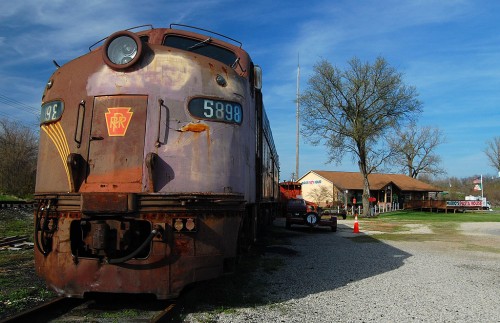 Mario's Pasta House isn't affiliated with the excursion line, but it's adjacent to it and is the best way to find the restaurant. The driveway is a little tough to spot. I pulled into the service station right before it by mistake the first time.
That diesel locomotive, by the way, was built in 1950 for the Pennsylvania Railroad and pulled the Broadway Limited, among others. It was capable of speeds of up to 120 miles per hour. In 1971, the Pennsy sold it to Amtrak when all of the railroads got out of the passenger business. Amtrak sold it to a tourist railroad, the Blue Mountain and Reading in Pennsylvania, which sold it to the Iron Mountain Railway in 1998.
The diesel is being used until the line's  steam locomotive can be put back in service. For more information about the railway, its schedule and prices, go to this link.
Good food, reasonable prices

For a new restaurant, it's getting a lot of business, so you may have to wait a few minutes to get your order. I'm not known for my patience, but I have no problem waiting for the quality and quantity of food that comes out.
Their Calazone Meat Lovers was excellent, and big enough that I had some to take home. The next trip, I ordered a Meat Lovers Pizza. (I think it was the 12-inch size.) Again, big enough for two days.
When Wife Lila went there this week, she said, "The crust was better than any pizza I can remember having. The waitress (who remembered your mother and you) said it was New York style, then added, 'well, New Jersey-New York, we're all from New Jersey'. I don't care what they call it. It is the best I can remember having anywhere. It's my new Wib's."
Waitress was accommodating
I asked what my mother had ordered: "She didn't want anything on the supper menu, because it was too much food. She explained that to the waitress, who said she'd check about what they could do for her. She came back and said they have a lunch special that was small… two stuffed shells and a meatball. The guy would make it up for her for supper.
"The shells looked like they were stuffed with ricotta and the shells and the meatball (one) were covered in red sauce and put under the broiler. It looked good to me, and I can't even have that much cheese. Your mother ate every bite and pronounced it really good. They were very accommodating, and she was happy. "
When I was there the first of April, their fountain drink machine hadn't been installed yet, so they served bottled water and drinks. I don't know if that's changed.
Review of Gordonville Grill coming
One of Mother's friends mentioned a new place to eat, the Gordonville Grill. It, too, proved to be excellent. I ate there at least four times during my stay. I'll get around to writing a review on it soon. See, I'm not ALWAYS lost in the 60s.