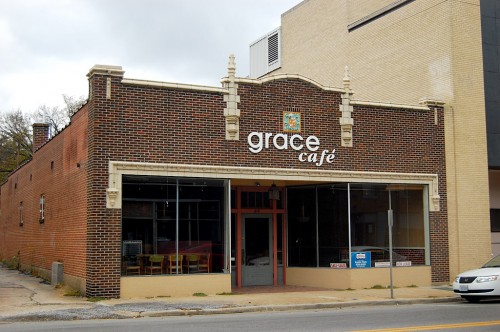 A reader was asking me about 818 Broadway. It's been a whole lot of things, but it'll always be Beard's Sport Shop to me. When I photographed it in 2009, the sign on the front of building said Grace Cafe, but I think it had already closed its doors. I used to go to Grace Cafe when it was located in the old Vandeven's Mercantile building at Pacific and Broadway because they had a fast internet connection.
Ornate decorations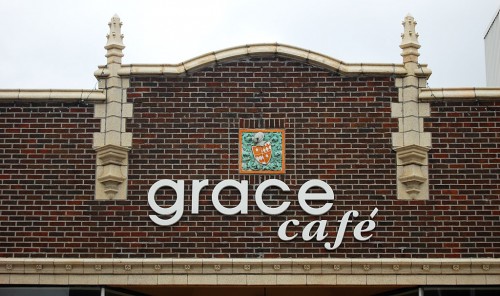 I never noticed how ornate the trim was on the building until I looked at these photos. I thought that it might have been added recently, but Fred Lynch had a Frony photo of Beard's and Wayne's Grill that shows it clearly in 1961.
When Friend Shari and I shot the interior of the Broadway Theater in December, we retreated across the street for some coffee to thaw out. I couldn't remember the name of the place, but a Missourian business column on April 18, 2011, said "Calix Coffee opened at 818 Broadway, at the former Grace Cafe location in Cape Girardeau. Owner Andrew Whaley, Jackson, previously worked at Grace Cafe as a barista. The shop sells coffee and fresh baked pastries, and Whaley hopes to add sandwiches and salads in the future."
That must be it.

You can barely make out the Beard's sign in a photo I ran the other day of a wreck at night on Broadway.
Interested in Pinterest?
I'm always a little slow in adopting new social media, but Son Matt added a new button to the front of the blog. You've been able to "Like" a page on Facebook and Google+ for some time. Starting last week, you could "pin" an image on Pinterest. It's probably easier to show you some of my stuff that's been "pinned" than to try to explain it. It's sort of a nice way to get a high-level feel for the kind of stuff I shoot.