Mother was a master of the leaf blower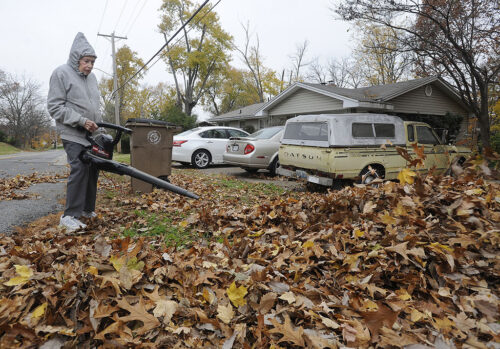 Being as how it would have been Mother's 99th Birthday Season, it's appropriate that I dig out these photos Fred Lynch took one day in 2014 when he was driving by the house.
Leaving no leaf unturned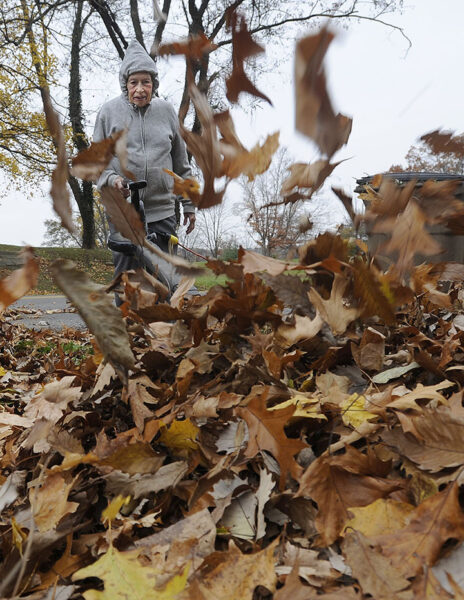 She could get the hurricane-force wind under a pile of leaves, make them look like waves in the air, and send them all the way down the hill in no time.
I always said I could do better with a wide rake, but I couldn't keep up with her.
Drastic Measures needed

After nearly falling when a leaf-hidden walnut rolled out from under me, and having one of nature's Legos in the form of a black walnut sans hull leave me limping, I decided drastic measures were needed.
I was either going to have to display a sign like this and abandon the back yard for the duration, or I was going to have to corral the green (and black) monsters.
Plan B didn't work
I tried my big rake first, but it couldn't deal with both leaves AND walnuts. That's when I reached into the closet for Mother's leaf blower. It would move the leaves, but it didn't have enough oomph to roll the walnuts (or I was skill deficient).
Plan C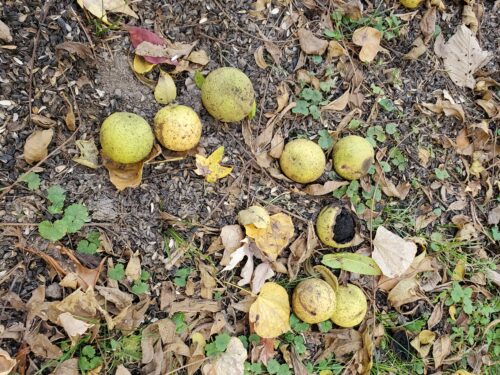 Plan C was the blow away the leaves so I could see the walnuts. Once the surface detritus was gone, I could use the rake to herd the nuts to the edge of the yard.
That allowed me to create safe passage to the bird bath and bird feeders on Sunday night.
Unfortunately, by Monday morning, another crop of nuts had fallen. Maybe the sign idea wasn't that bad.