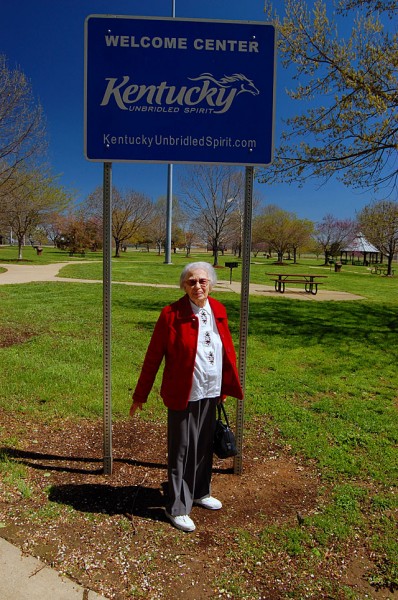 Most of these photos have nothing to do with much of the copy. Today was Interstate Day. Interstates, unlike the backroads we had been on earlier, are duller than dog doo. The first two shots were taken at the Kentucky Welcome Center on I-24. We didn't bother to document Tennessee. It was so dull I stuck in an audio book.
Have you been watching the weather?
We were somewhere between Birmingham and Nowhere last night on Day Two of our Road Trip when Son Matt called to ask if I had been watching the weather. Since we had been hit with fewer than six raindrops on the whole trip, I said no. He suggested that I look because the Weather Channel was going nuts.
Yep. Big areas of reds and yellows right in our path. I told the GPS to look for lodging. Everything on the first two screens was behind us. Fortunately, when we got closer to Cullman, AL, things started looking up lodging-wise. Sky-wise was starting to look menacing.
Cullman Comfort Suites had it together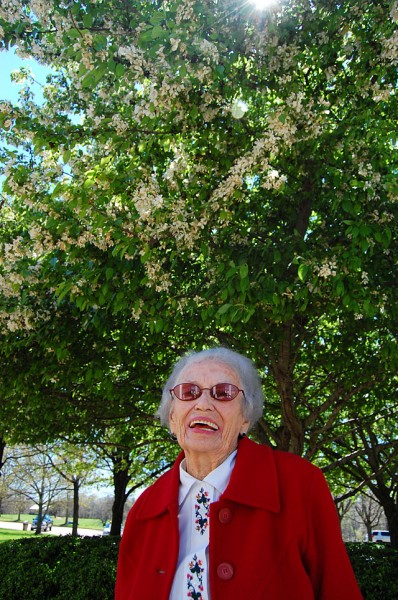 There was what appeared to be a new Comfort Suites at the exit, so we ducked in there just as the wind was starting to whip around and the temperature was dropping precipitously.
After a little bargaining, we came to an agreement on a room. While Joy Pannell was writing it up, I mentioned that I was traveling with my nearly-90-year-old mother and asked where we should go if the storm got bad.
I was impressed. She whipped out a sheet that contained information about where to seek shelter and a list of the local TV channels. In addition, she said that we should expect a call if there was a tornado warning in our area. Then, because of Mother, she gave us a room that was two doors down from the stairwell that would be the shelter area. That kind of disaster planning is something I had never gotten from any hotel in all my years of traveling. I heard Joy deliver the same message to the folks who checked in after us.
Don't go to a Wendy's / Texaco combo
Mother, wisely, didn't want to go out in the cold, horizontal rain, so I volunteered to go across the street to a Wendy's.  Here are some hints:
DON'T go to a combination Texaco / Wendy's. I ate exactly one-half of what purported to be a chicken nugget. I think it must have been something from the Texaco side of the world.
DON'T roll down your window to place your order if you're facing west and the rain is blowing east. I'd have been drier if I had gotten out of the car and run through the monsoon.
How did she do that lighting trick?
I mentioned that Mother likes to get up early. This morning, however, she cut me some slack. What I'd like to know is how she managed to arrange a crack in the window curtain that would shoot a six-inch sliver of blinding sunlight into my closed eyes while leaving the rest of the room in total darkness.
Trailer on Kentucky Lake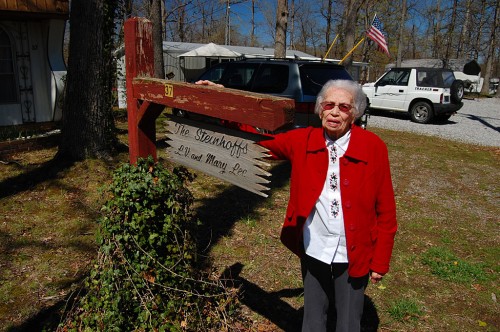 She was concerned that the winds that hit a factory in Hopkinsville might have damaged her trailer over on Kentucky Lake. Except for a few limbs down, everything looked OK. She did say that she was going to have to take some black paint to the sign Dad put up in the early 70s.
We had a lot of happy times there.
Lincoln and the Land of Lincoln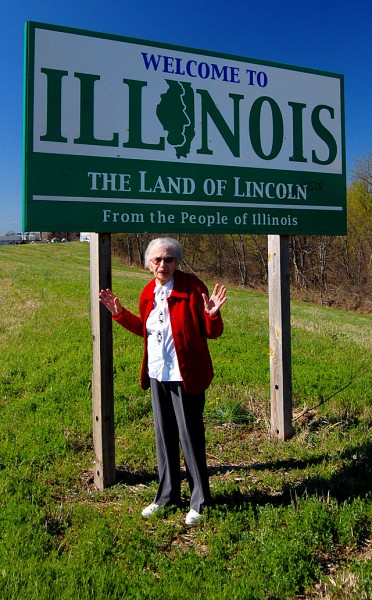 Mother had her picture taken with Abe Lincoln on Day One. Today, she shows how happy she is to be back in the LAND of Lincoln. We would have dropped down into Ft. Defiance at Cairo to shoot her at the confluence of the Ohio and Mississippi Rivers, but the Ohio has been high and it looked muddy.
Brief Pause in Cairo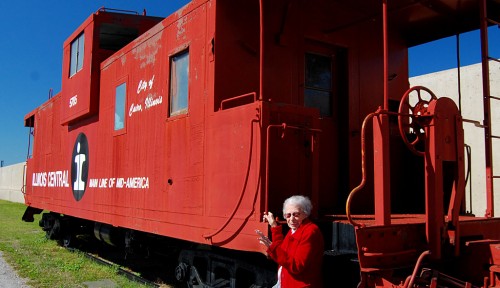 Cairo is where I shot Barry Goldwater campaigning for President and my first riot. I still go back to shoot what's left of the downtown area. Every trip there are fewer buildings standing. She's posing with the City of Cairo, Illinois, a caboose going nowhere.
Cape Girardeau, home at last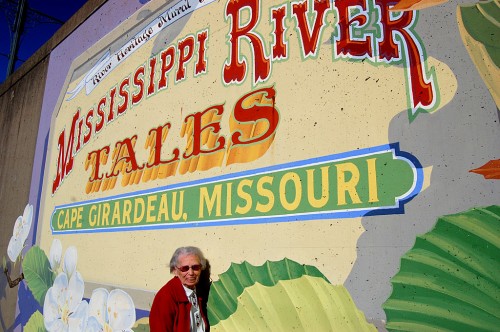 I felt a twinge of nostalgia when we passed where the old Mississippi River Bridge once stood. The new one is beginning to grow on me though. This was the final picture of our Road Trip.
It was fun. Mother was good company; the miles went by fast and we saw lots of neat things. I'm sure you're getting tired of our series. Things will get back to normal tomorrow if I can get all my stuff unpacked.
I DID take one shot of myself.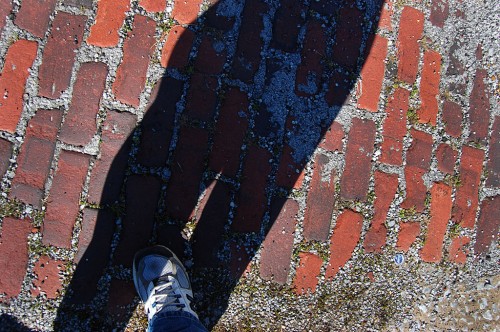 Jane Neumeyer asked that I get an occasional photo of the two of us together. I don't usually think of taking photos of myself – that's why I hide BEHIND the camera. In editing the pictures, I DID find this one shot with me in it. Will this do, Jane?