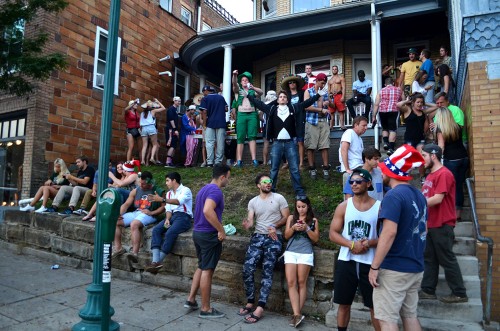 I've been working late at the Athens County Historical Society and Museum office. Athens, Ohio, is the home of Ohio University, once known as a top-ranked party school. (If it's been down-graded, I'd hate to see what the top 10 looks like.)
There are several bars to the left of me; there's a bar across the street from me, and there's a bar and a rental house with a kazillion people in it on the right side.
The female voices that echo off the surrounding buildings are hitting frequencies that I thought only dogs could hear (and just short of that which would break glass). I haven't heard the equivalent of the male voices since a camping trip on Fisheating Creek during alligator mating season. It's not even the music that is earsplitting. It's the cacophony of voices. (Click on the photos to make them larger.)
Words don't do it justice
I shot the Saturday night video when I was getting ready to pull out of the parking lot about one in the morning. It'll give you an idea what Court Street sounded like. I sent the video to CHS Buddy Jim Stone, who had been in town dropping Son Oliver off for class earlier.
His reaction: "Gee. Oliver said they were having movie night in their new apartment with perhaps a few games of chess."

Party in progress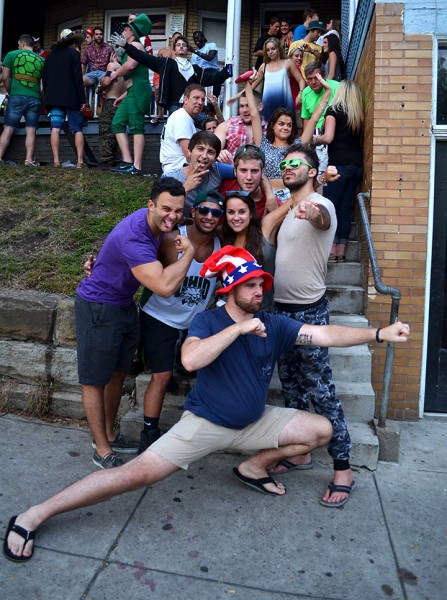 When I drove down Court Street, Athens' main North-South drag late Sunday afternoon, I spotted the party in the first photo two doors down from the office. I couldn't resist.
When I walked up, there was a guy with a cellphone camera taking a picture of a couple of his friends. "Would you like to get in the photo?" is always a good icebreaker. The next thing I knew, half the party crowded into the photo.
Got an internship?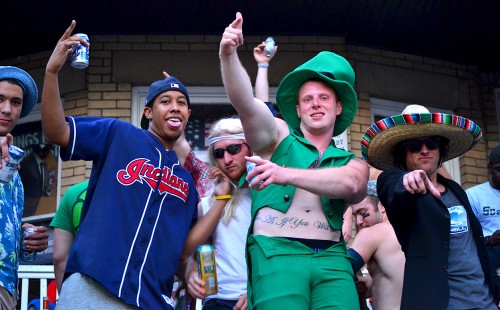 A kid came up to me and said, "I saw you flipping cameras back and forth. Are you a pro?" I handed him a business card and told him what I do now.
He wanted to know if I took on interns. I said that I was a Florida guy writing about MO in the middle '60s and Ohio in the late '60s, so I didn't know how well he'd fit in.
"Are you a nark?"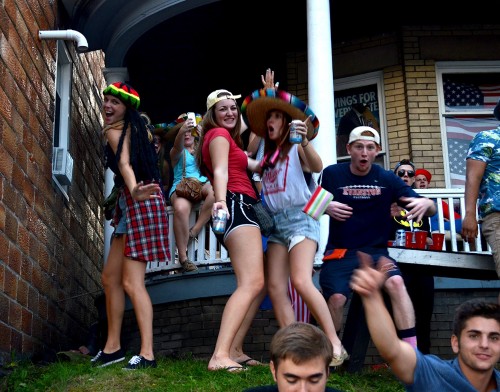 The next guy asked, "Are you a nark?"
The last time that question was raised, I told him, was in about 1974. I was at a big group of partying young folks about to be chased out by the sheriff when I saw a guy pointing at me and asking his buddy, "Think he's a nark?"
"You gotta be kidding," his buddy observed. "He's too straight-looking to be a nark."
"I love Athens"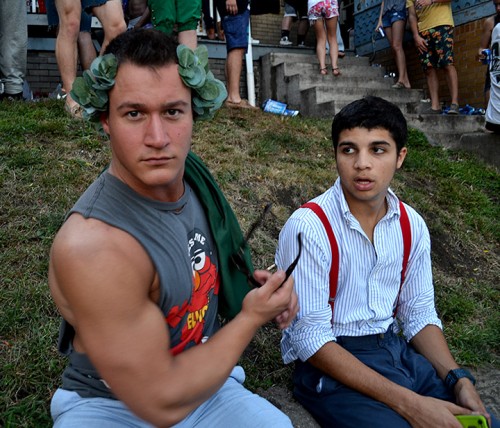 Another kid said he was from Detroit and "loved Athens."
"If you are somewhere and mention that you went to school in Athens, it's like you have a bond."
Curator Jessica and I had talked about that. Athens' uptown shopping area, bars and restaurants are adjacent to campus and everything is within walking distance, so a lot of students don't have cars. It's also a relatively isolated area not close to any major population centers. A lot of students come from places like Cleveland and Akron that are too far away for a casual weekend commute, so they hang out in town and grow close to it.
That's a lot different from Cape, where the SEMO campus is nowhere near the shopping areas and St. Louis is an easy two-hour drive. The university and town treat each other with benign neglect.
What's with the pointing thing?
So, what's with the pointing gesture thing that shows up in so many pictures. It's something I've not run into before.
Monday morning, I showed up at a local diner for breakfast. There was a blonde at the table across from me who must have been one of those who attended a Sunday night party because I could see her eyeballs throbbing all the way across the room. I think if a server had dropped a tray of plates behind her, her head would have exploded.
Interestingly enough, the streets were quiet and almost deserted Monday night. I guess even OU students can stand only such much partying.