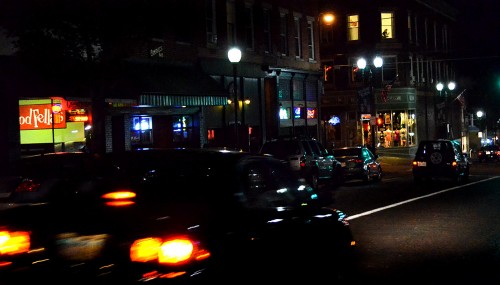 I rolled back into Cape about 10 p.m., too tired to unload the van and computer equipment, so you're going to get one of the last photos I took in Athens and one on the way out of Kentucky.
We emphasized to our workshop folks that just because the sun goes down doesn't mean that you have to put your camera away. The last thing I did before leaving town was to go up to the Athens Diner for a late supper.
On the way back to the car, I thought I'd practice what I had been preaching and see if I could make a night shot in a two-block walk. I took a couple of pictures, but I like this one because of the guy in the upstairs window on the right. He looked like he was juggling a pizza box. Click on the photo to make it larger.
Kentucky sunset over cornfield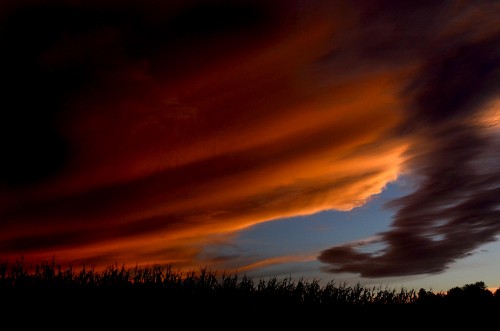 I was driving into the setting sun and saw several situations that were neat, but I couldn't get a clear shot of them. That's when I noticed that the best picture was alongside and behind me. I waited until I saw a stretch of road that had a break in the trees and a wide enough shoulder to pull off.
The result was a strange collection of clouds over a cornfield.