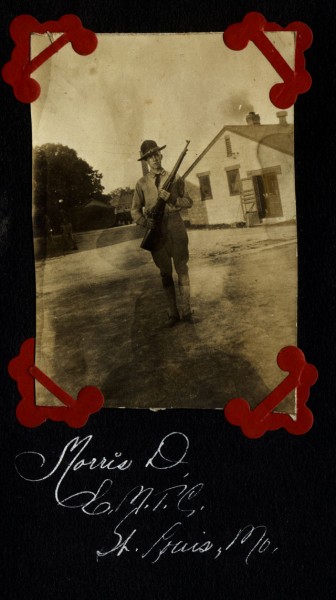 This photograph from Dad's scrapbook wasn't what I had planned to post tonight. Dad's scrapbook has photos in it from when he was a pupil at May Greene School and on through at least 1934 when he graduated high school from the old, old Central on Pacific Street.
I don't know who his buddy was. The mid-30s would have put it between World Wars I and II.
A flash of the Vietnam War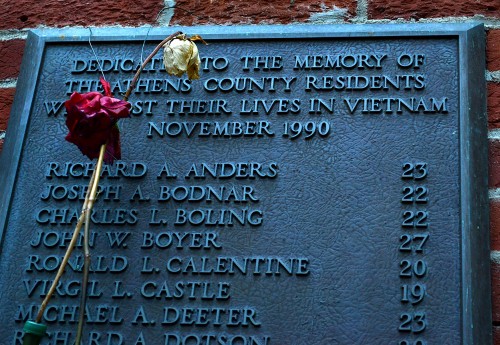 When I visited Athens, Ohio, this winter, there was something on the county courthouse that wasn't there when I was in the town: a plaque dedicated to the memory of Athens County residents who lost their lives in Vietnam. The fading flowers were what caught my attention. I shot a few obligatory shots and didn't think anything about it until I got back to the hotel and looked at the photos on the computer screen.
At the bottom of the plaque (not shown here) was the name of Robert N. Smith, MIA. I was rocked back. I remember shooting Smith's wife and daughter when they were waiting for word about his fate. About a decade or so later, the daughter tracked me down and I think I sent her copies of the pictures. I didn't think of them again for three decades.
The story has an incredible twist that I'm going to save for when I find the film of the Smith family. I've spent two weeks going through negative files day by day and haven't located them yet.
Thanks to all of you who have served. And, thanks to those like the Smith Family who have waited so long to be able to write the final chapter in a loved one's life.
Stories appropriate for Memorial Day