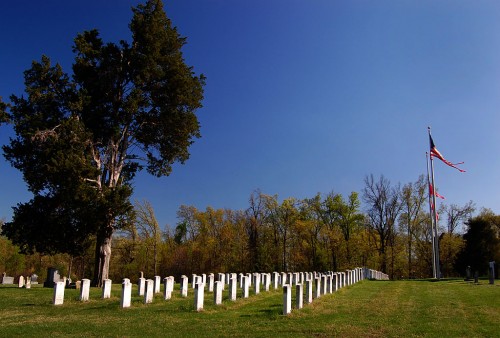 In the shadow some of the most disgracefully tattered flags I've seen flying in a public venue is a fascinating memorial to the Confederate dead from Stoddard County, Mo.
Larry Arnold's idea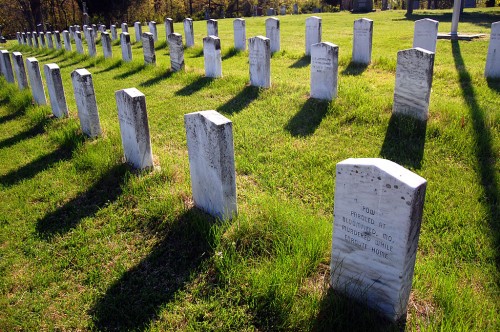 Larry Arnold, a Civil War buff from Dexter, Mo., saw a Civil War tombstone in a St. James, Mo., cemetery that had the soldier's name and normal dates, but on the back was inscribed, "killed by the Yankees at the Battle of Booneville, Mo. Whenever he saw a military stone after that, he was always disappointed not to see the detail of the serviceman's death.
The Stoddard County's Confederate Memorial's website tells what happened next: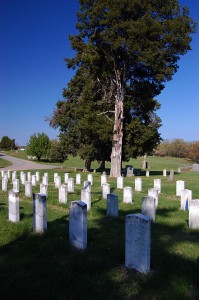 When Jim McGhee and Jim Mayo published their book, "Stoddard Grays", (an informational book about Confederate soldiers from Stoddard County), Arnold started to get an idea. "I thought it would be neat to order grave markers for the 117 plus Stoddard Countians that died during the war and inscribe where and how they died on the back.
"When I conceived the idea there was 117 known Stoddard Countians. We now know of 121 soldiers, 9 civilians–'Political' prisoners who died in prison at Alton, Illinois, plus 22 non-Stoddard Countians who are buried in this location; their home counties are inscribed on the back of the stones."
"Even though their bodies lie from Mine Creek, Kansas, in the West, to Petersburg, Virginia, to the East, on the battlefields of the South, and under the former POW camps of the North, their names and sacrifices will once again be remembered and spoken of in their home county they loved so much and were willing to die for."
The Minton Brothers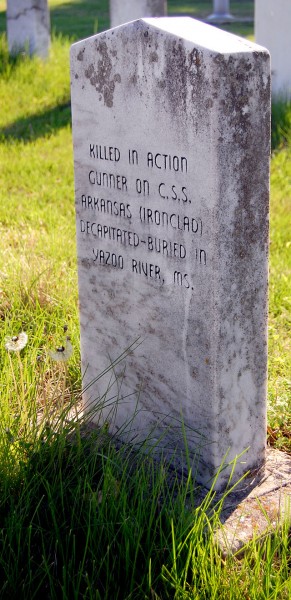 Two stones bring home the horrors of war.
The website describes Stephan Minton, age 16, as "a curious Irish lad whom Capt. Brown made reference to in the ship's log. Minton had stuck his head out of a gunport for a view and was immediately decapitated by an enemy shell."
"I can't, Sir. That's my brother"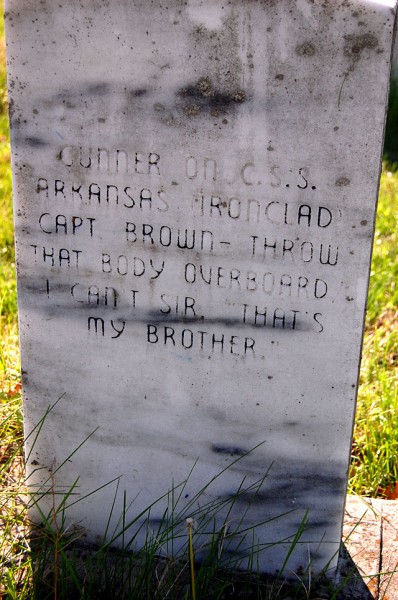 The Captain unknowingly ordered another Missouri gunner, Smith Minton (Stephan's brother) to "throw that body overboard."
Smith Minton's reply was, "I can't sir, that's my brother." Smith Minton would survive the war but die of illness in Texas where he lies buried in an unmarked grave. While the Minton brother's remains lie elsewhere, their memory lives on in Stoddard County where they enlisted in 1861.
Terrorist or freedom fighter?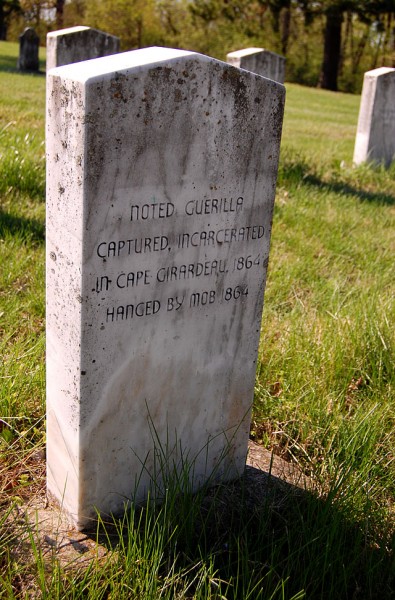 It's been said that one man's terrorist is another man's freedom fighter. That's certainly  the case with Pvt. John Fugate Bolin, a "noted guerilla captured, incarcerated in Cape Girardeau, 1964; hanged by mob 1864."
The 2010 Cape Girardeau Historic Preservation Month Walk had this to say in its entry on the Common Pleas Courthouse:
During the Civil War, the Union provost marshal had his headquarters at the courthouse. The provost marshal was, in effect, the military governor for the area. The jail in the bottom of the building was used for disloyal locals, occasional captured rebels, disorderly Union soldiers, and people awaiting trials. In one episode, captured rebel guerrilla leader John Fugate Bolin was dragged from his cell by local people and soldiers and lynched from a farm gate on Bloomfield Road in retaliation for murders of unarmed Unionists.
Defending Missourians from "savage invaders"
The Missouri Partisan Ranger Virtual Museum & Archives has a different perspective on guerilla forces:
"These men rode hard and defended the innocent citizens of Missouri from the slaughter and carnage that had been committed by Federal occupational forces sent by Abraham Lincoln.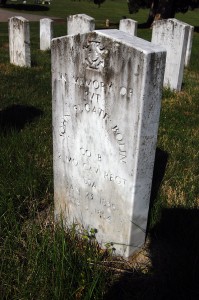 "Many Northern histories and spin doctors consider the Missouri Partisan Ranger to be bushwhackers and thieves. But in reality, they were only waging the type of war that had already been committed against them and their families for over a decade.
"The Federal occupational troops sent by Lincoln came from Iowa, Illinois, Michigan, Wisconsin and mainly Kansas. They raped, pillaged, burned and destroyed much of Western, West Central and South West Missouri.
"The Missouri Partisan Rangers were at times the only defense the people of Missouri had from these savage invaders. Without doubt, the so called Federal armies were indeed illegal occupational invaders who simply had no right to occupy and violate Missouri's autonomy.
"As issued on March 13, 1862 in Order Number 2, The Missouri Partisan Rangers were given 'No Quarter' when they were captured. Murder and death were the occupational armies sole solution.
"And in return, No Quarter was given to the enemy of The Missouri Partisan Ranger."
Location of Bloomfield Cemetery

View Stoddard County Confederate Memorial in a larger map