I'm going to step away from Cape for a couple of days. I'm scanning some photos from late 1969 and early 1970 because it's important that we don't forget what was going on forty years ago. While politicians were wrapping themselves in The Flag, young men were dying.
Youth for Decency Rally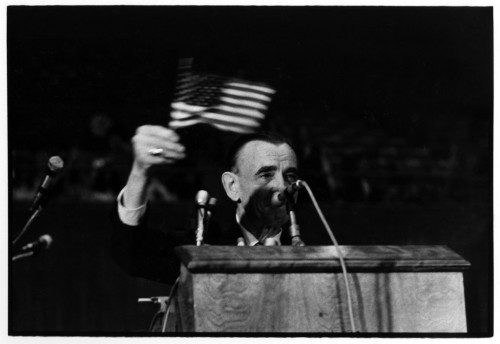 That's Jack Sensenbrenner, the right-wing former Bible salesman mayor of Columbus, OH, speaking at a Youth for Decency Rally. The rallies popped up all over the country after Jim Morrison of The Doors was arrested for indecency in Miami, decades before Janet Jackson's "wardrobe malfunction." President Nixon immediately endorsed the events, along with everyone else who was afraid of change, Rock and Roll and all the other hedonistic free love hippie things that went along with it.
Meanwhile, the Vietnam War comes home
Newspaper photographers don't have any idea what the day is going to be like. My first assignment for The Athens Messenger on Sept. 17, 1969, was a routine grip-n-grin photo of a local serviceman being awarded a bunch of medals for his service in Vietnam.
Posthumous medal presentation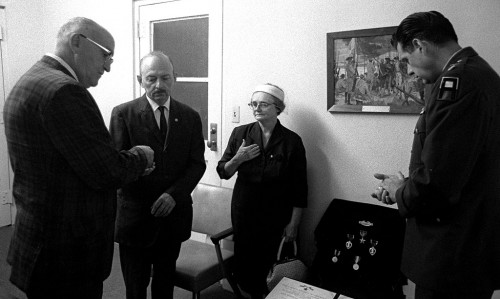 That afternoon, I went back to City Hall to watch the mayor award the Bronze Star and Purple Heart to the parents of a boy who didn't come back. As I looked at their expressions, I wondered how much they had aged since they received that knock on their door and looked out to see a somber-faced soldier on their stoop.
The lonely ride back home with a box of medals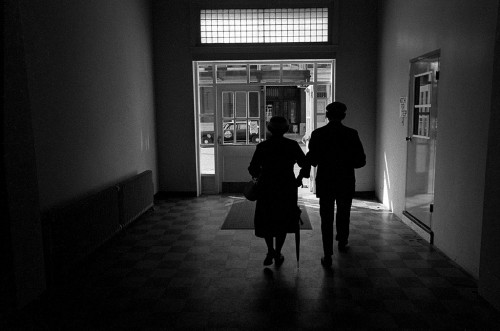 The image I've never been able to get out of my mind is the one of them walking out to their car. On their ride home, they're going to have a box of medals sitting where their son should have been.
Country Joe and The Fish
As hard as I tried, I couldn't keep from thinking of the lines from Country Joe and The Fish that had been posted on the Ohio University College Green on Moratorium Day: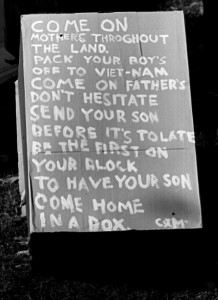 Well, come on mothers throughout the land,
Pack your boys off to Vietnam.
Come on fathers, don't hesitate,
Send 'em off before it's too late.
Be the first one on your block
To have your boy come home in a box.
Their names are lost to me

I don't know their names after all these years. I guess it's not important in the long run. They can be the "Unknowns" to stand in for all of those families who received a knock on the door that changed their lives forever.
One thing I've always wondered: was there a newspaper photographer in North Vietnam who had the mirror image of my assignments?