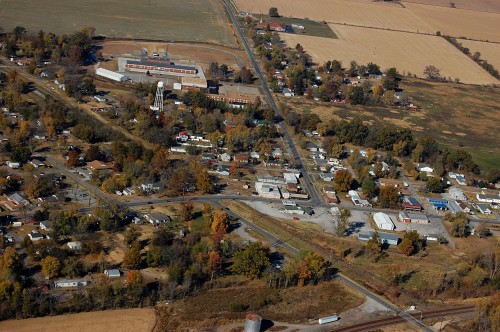 When Ernie Chiles and I were headed from Painton to Cape along Hwy 25 last November, we passed over Delta. I asked him to do a quick turn to see if I could shoot the abandoned quarry just west of town.
Light on the Hill Quarry was awful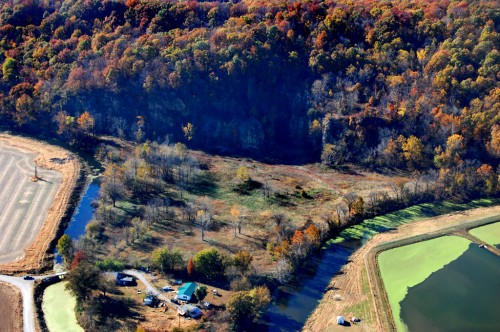 We couldn't have picked a worse time of day to try this. The quarry was in dark shadows.
What's special about this place? Well, our family has many well-worn stories. I don't think we ever passed by this location that Dad didn't mention the bulldozer that went over the cliff there.
It's like when the kids and I are driving on Hwy 61 about half-way between Wib's BBQ and I-55. Someone will invariably say, "This is where that tire came off the car and came bouncing down the road toward us." I don't know if we are trying to imprint the memory or if we're just filling dead air.
Bulldozer DID go over the cliff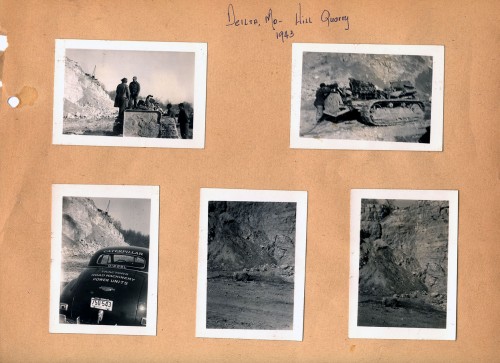 A few years ago, I ran across one of Dad's scrapbooks that proved that a bulldozer really DID go over the edge in 1943. The inscription says it happened at Delta's Hill Quarry in 1943. (Delta's spelled wrong, but that's no big deal.)
I never remember him saying what happened to the Cat skinner (bulldozer operator). A quick search of the Google Archives didn't turn up a story about it.
Train arrives in Delta with extra passenger
I DID stumble across a couple of interesting other stories, one relating to Delta. The Sept. 9, 1913, Missourian reported "Mrs. Frank Broadway leaves Cape for her home in Advance and just as the train is pulling into Delta a son is born. She asked the name of the kindhearted conductor. "Dobey" Timbs is the regular conductor, but he is on vacation. The mother said that would be her baby's name. When informed, "Dobey" insisted that the name be Gene Burgess (Broadway), the conductor in charge."
From my experience in editing stringer copy, this HAD to have been written by a freelance correspondent. They typically filled their stories with lots of details that left you more confused than enlightened.
Another Gene Burgess story
Conductor Gene Burgess was mentioned in an Oct. 12, 1920, story, when three armed men met his train in Lilbourn and asked for permission to search the train. "Gene Burgess, the accomodating conductor, told the men to go ahead and look the train over for if there was a bad man on it he would prefer they save him the trouble of removing the man.
"They failed to find their quarry.
"As they left the train, Conductor Burgess asked them what kind of crime had been committed and one of the men, who wore an extra large revolver on his hip, stepped forward and said, 'See this bump on my head? Well that was put there by this man who struck me with the butt of his revolver. I won't take such punishment from any guy – and beside swatting me like that, the scoundrel carried away my wife with him.'"