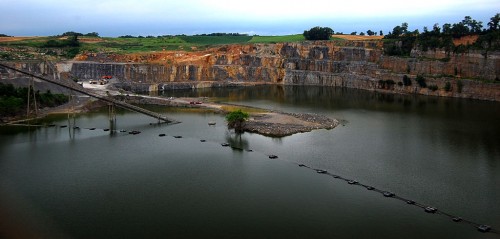 The water in the cement plant's quarry is a little lower than when neighbor Bill Bolton took his photos earlier in the month, but there's still a lot of water in the bathtub. Here are pictures of the ebb and flow of water in the pit since 2002.
Pumping water into Cape LaCroix Creek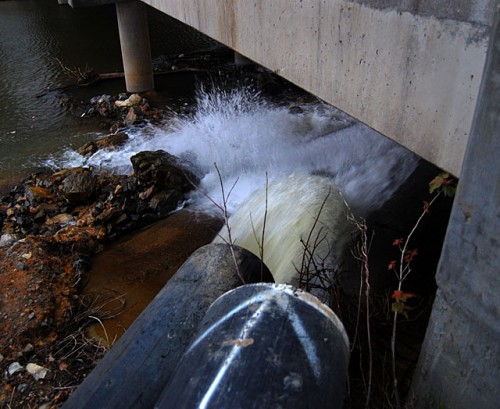 One reason they're gaining on it is a new pipeline pumping water into Cape LaCroix Creek at South Sprigg. I don't know if both pipes were being used at one time or if the one is being held as a spare.
It's only fair that water be pumped  back into the creek because that's where some of it is seeping from.
Sinkholes present challenge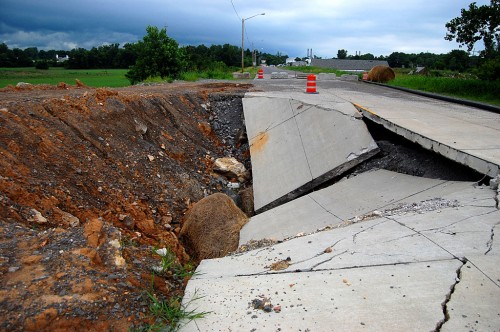 Getting TO the quarry was a bit of a challenge. You can't get there by going south out of Cape on South Sprigg. It's closed at Cape LaCroix Creek because of some massive sinkholes. We had to come in from the west.
Devices along railroad tracks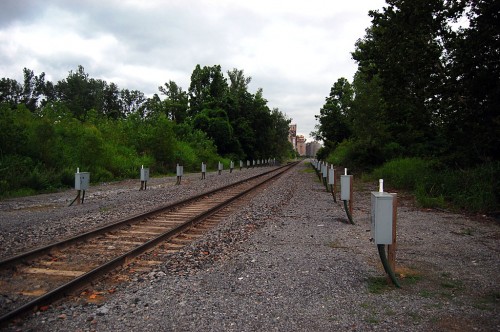 I don't know what these devices are along the railroad tracks north of the cement plant and south of the creek. Railroads have been using defect detectors for years to find overheating wheel bearings, called "hotboxes;" loads that have shifted; how many axles are on the train; objects sticking out and other anomalies. The devices transmit a radio report to the crew when it passes.
Until regular reader and train buff Keith Robinson chimes in, I'm going to speculate that these devices may be looking for changes in the track that would signal a sinkhole has opened up or swallowed the track.
Gallery of photos
Here are more photos of the Sprigg Street sinkholes and the railroad devices. Click on any image to make it larger, then click on the right or left side to move through the gallery.