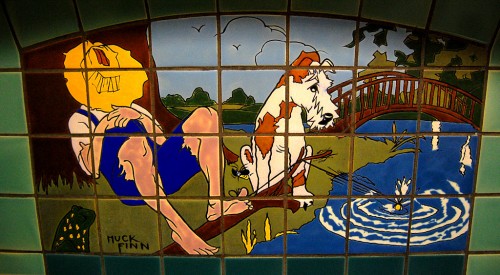 When I published the collection of pictures titled, "Do These Photos Say Cape?" I mentioned that I was pulling them together for a friend. The friend – I guess I should say Virtual Friend – was Nicolette Brennan, Cape Girardeau's public information coordinator, who wanted them for the city's website. I dropped them off at City Hall, the former Lorimier School, Tuesday afternoon.
Where are the murals?
When I wrote about Lorimier's transition from a school to a city hall, someone asked me if the murals were still in the hallways. Since I hadn't attended school there, I didn't know what they were talking about. On the way out of the building, I asked a nice woman (who is a reader, by the way) if she knew where they were. I don't remember if she used the exact word "scary, spooky, weird" or what, but I knew what she was talking about as soon as I saw them. Huck Finn, above, is the most benign of the batch. Ironically, because the plumbing in the water fountain or sink in front of it is broken, there was a filing cabinet in front of it that almost hid it from view.
Three Men in a Tub could cause nightmares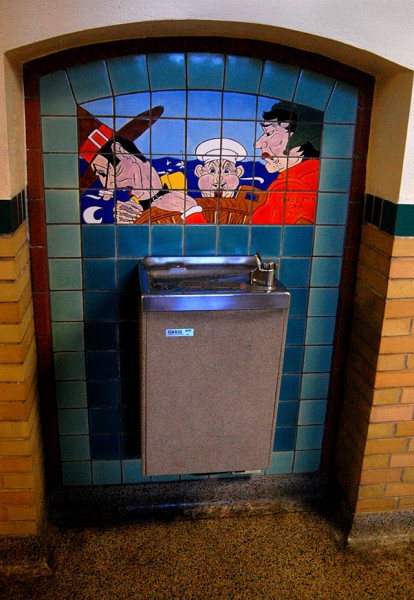 The Three Men in a Tub would give any kid nightmares. It's not exactly what I would picture over a water fountain in an elementary school, particularly since the character on the left looks like he's losing his lunch into it.
Don't believe me?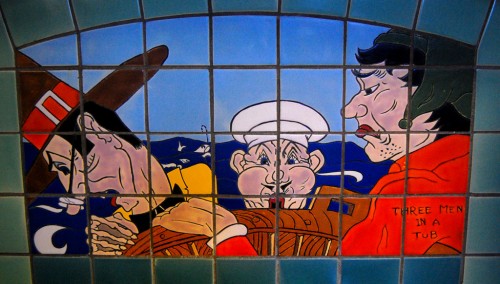 If you don't believe me that the characters are grotesque, here's a closeup. Like always, you can click on any image to make it larger, then click on the sides to move to other photos. I'm not sure I would encourage you to do that in this case.
Long John Silver has Mick Jagger lips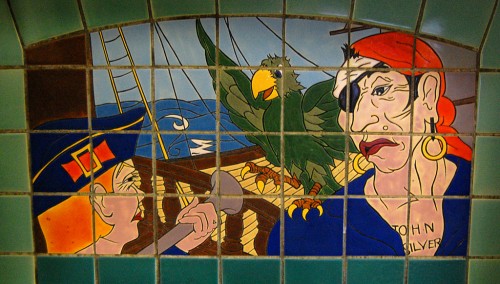 I'm assuming the guy with the eye patch is Long John Silver or another pirate. His lips, though, look like they could go on Rolling Stone's Mick Jagger.
Video games are violent?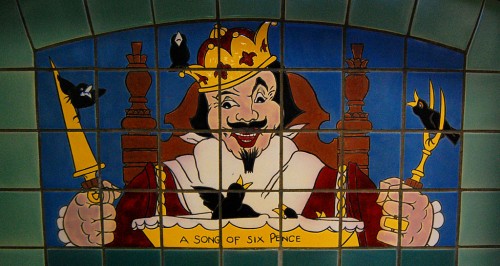 It's been a long time since I've thought about nursery rhymes. Sing a Song of Sixpence starts off with a king being served a piece of pie that opens up to contain singing birds. I find that neither sanitary, entertaining nor filling.
Sing a song of sixpence,
A pocket full of rye.
Four and twenty blackbirds,
Baked in a pie.
When the pie was opened,
The birds began to sing;
Wasn't that a dainty dish,
To set before the king?
The birds get their revenge in the third verse, though. Animals didn't need PETA in those days, they took care of their own problems.
The maid was in the garden,
Hanging out the clothes;
When down came a blackbird
And pecked off her nose
These graphics explain a lot about my classmates who came through Lorimier.