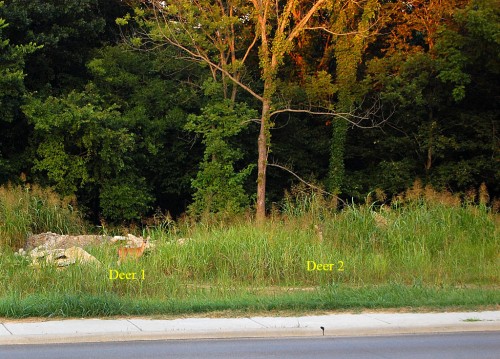 Mother and I happened to be driving northbound on Mount Auburn Rd. just about dusk a couple of nights ago. When we cleared the Hopper Road light, I looked over at a small clearing and spotted a small deer in the grass. Even though we lived "out in the country" when we moved in 50+ years ago and had cattle grazing the field behind our house, we never saw wild animals bigger than racoons, possums and the rare woodchuck in the neighborhood. It's only been in the last 10 or 15 years, with development eating up all the countryside, that she has had deer show up in the yard.
When I drove past there at about the same time Saturday night, the deer was in the same place. I thought he might be stuffed until I saw his white tail move.
Does Missouri use decoy deer?
Still not convinced that it was a live deer, I went home and asked Brother Mark if Missouri ever used fake deer to catch hunters shooting where they weren't supposed to. He said he thought they did, but wasn't sure.
I asked Mother if she'd like to see if the deer was real or fake. The deer was still there when we pulled into the parking lot of the Ford & Sons Funeral Home on the other side of the street. I got off a couple of shots of the deer and was convinced that it WAS real.
Cars have the right of way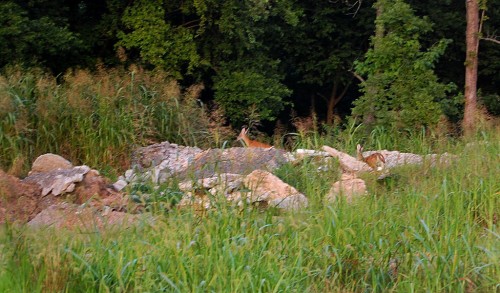 I was walking across the street for a closer shot when the light changed a block away. From the speed the cars were coming, it was clear that cars, not pedestrians, have the right of way on Cape streets. Realizing that walkers were divided into two groups: the quick and the dead, I broke into a run. That spooked not just one deer, but two.
It wasn't until I looked at the first frame enlarged on the computer that I realized that both of them were visible in the original shot.
Bunny rabbits in front of Franklin School a week ago; deer on Mount Auburn Road on Saturday. Cape's getting to be a wild town.