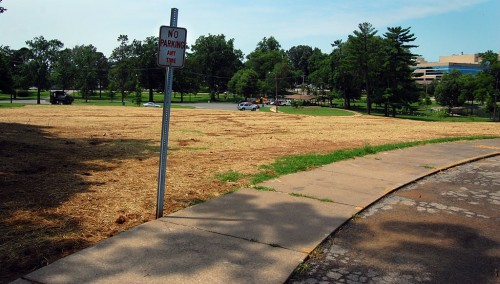 Wife Lila and I hadn't been back to Capaha Park since the pool was razed. When we pulled into the loop, there was an audible gasp from the seat next to me.
The pool where she had been a lifeguard for 10 years had been erased. The city didn't even have the tact to leave behind a reminder like the oval that had been the old pool in the background of the photo.
Fighting back tears, she said, "I don't know how you can feel this way about something that's not a person."
Salvaged half a brick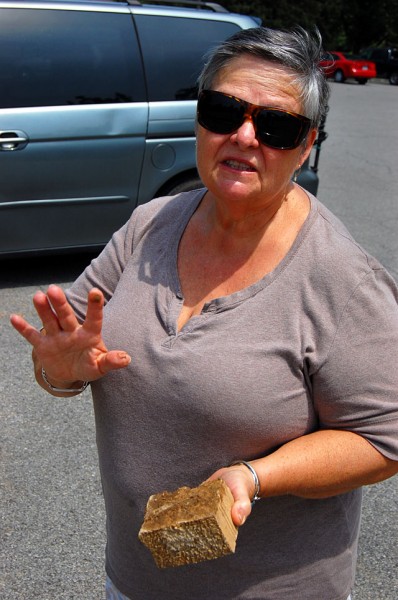 There were a few brick fragments sticking out of the mud from last night's rains. The first one I brought her was red, but neither of us could remember any red brick being used in the building. Later, Bill /Jacqie Jackson, Lila's lifeguard colleague said that there was one course of red brick used as an accent in the pool building.
I'll have to take his word for it. It must have been used in an interior wall, because I don't see it in any of the photos I took just before the wreckers moved in.
I went back to retrieve a tan brick that was more like we both remembered.
Laurie scored brick and fence cap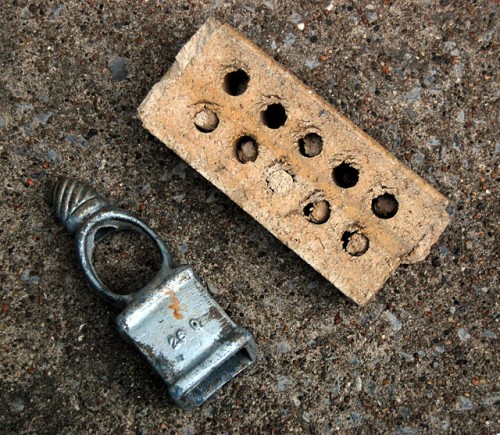 Lila gave Jacqie her half-brick because Niece Laurie Everett, of Annie Laurie's Antiques fame, scored her a whole brick and the cap off one of the fence posts while demolition was in progress.
Earlier stories about Capaha Pool