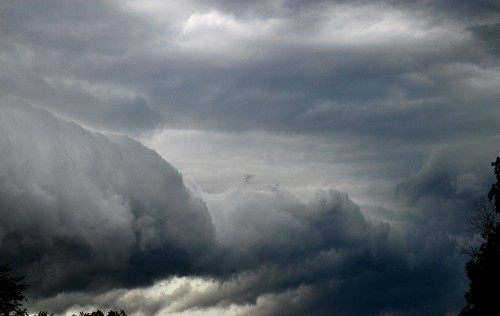 I've been in Cape a couple days more than a month in the hottest stretch of weather since 1936. It might have sprinkled a couple of drops during that time, but I don't remember them. We've had some flashes and rumbles that got hopes up for nothing.
This afternoon, though, the skies started to darken and the radar started showing a line of reds and yellows headed our way. I bought Mother a new portable weather radio, so I broke it out of its blister pack and started wading through the miniscule type to figure out how to set it up for Cape county and the area where her trailer is on Kentucky Lake. I was getting pretty close to done, I thought, when NOAA squawked out a severe thunderstorm warning. It startled me so much that I almost pitched it like a snake.
I decided to run out to the car before the rain started to get my video camera. Maybe we'd get something worthwhile.
Video of approaching (but not arriving) storm
We caught some pretty impressive wind in advance of the storm – the airport south of Cape logged a 53-mph gust. The initial rain pelted down hard, but then slacked off. That's probably a good thing: the ground is so hard that anything that splashed down would have immediately run off.
The .014 inches of rain recorded at the airport in about an hour and a half won't go far in helping what has been classified as an "exceptional drought." Be ready for higher food prices. There's no relief in sight.
Storms of 2011
What a difference a year makes.