I went to lunch with a couple of old classmates last week, Bill Hopkins and Van Riehl. I use the word "old" and not "former" for good reason. That's Bill in the foreground of a photo from our high school days. You can tell from the body language that he's trying to work his way out of what would have already been a knuckle-rapping in Ruby Davis' class. I don't have any photos of Van because he was an underclassman and beneath note.
During the course of the conversation, they both said that Sandy's Place, a restaurant down at the Cape Airport has the best catfish around. I take advice like that with a grain of salt from these characters. These are the kind of friends who would tell you, "Oh, sure, the ice is thick enough to skate on," and "Yes, the electricity is turned off" just before you started working on the light switch.
It never dawned on me that these hooligans could conjure up a near tornado, complete with torrential rain, marble-size hail and wind gusts that made driving almost impossible.
I spent the afternoon up at SEMO talking with Lisa Speer in Special Collections about picking up my Cape photos when I go toes-up. She thought they might have a trash can just the right size to house them.
Storm's a comin'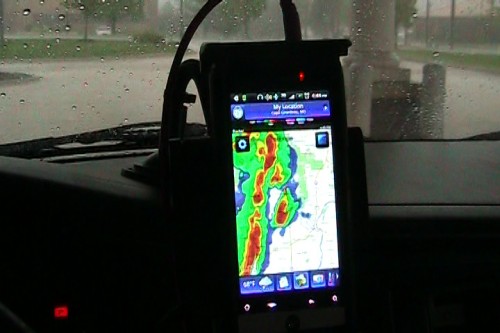 Anyway, I called Mother and said, "Let's hit the catfish joint. Better be waiting, because I think it's gonna come a gully-washer." About two hills down Mt. Auburn road, I heard someone on the police scanner say, "We've got hail in Chaffee."
I said, "Let's find cover, looks like it's coming our way." We pulled into a bank drive-through window just as the rain cut loose and the wind began to howl. No sooner had I told the nice lady at the bank we weren't there to transact business, but to seek shelter from the storm, wind-borne pea-size hail peppered the car.
Video of the storm
After a bit, the hail let up and I thought had caught a break. About the time we were going to turn onto I-55 from William, the hail was back. The water on Siemers Drive was about a foot deep when I spotted a Sonic drive-in with some cover. So did everybody else. There was one last stall open when we got there.
I debated ordering something to justify our parking space, but I saw the curbhops getting blown around and pelted with flying ice that was somewhere between marble-size and maybe an inch around. I figured it would be an act of kindness NOT to have them bring anything to the car. Traffic on the scanner was reporting bad stuff happening all over the area.
Catfish and pie were great
The storm moved quickly out of Cape, the skies brightened and we made it to the airport uneventfully. We lucked out there, too. Because of the storm, we didn't have to wait in line. By the time we finished some excellent all-you-can-eat catfish, there must have been more than two dozen folks waiting for our table.
Except for trying to kill me in a storm, Bill and Van had some good advice for a change. I recommend the catfish and coconut pie to everyone. Just check the weather forecast first.