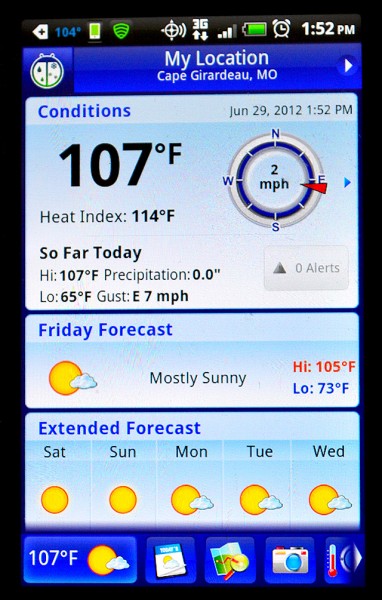 It is PLENTY hot. Blast furnace hot. As hot as Texas was one summer I was there, and I use that as a gauge for hot.
I rented a bike in Dallas for a weekend ride, and the poor thing skittered from one pool of shade to another. It was so hot a highway work crew had to hang out in an air conditioned pickup until it was their turn to lean on the shovel. (Click on any photo to make it larger.)
100 degrees on the porch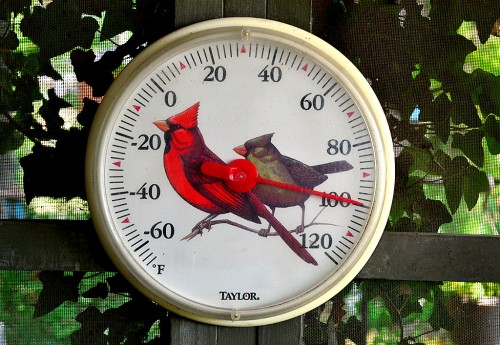 Mother's got one of the most comfortable porches in the universe. It faces east and is shaded, so you can generally sit out there in the hottest weather without even turning on the ceiling fan. Today, though, the thermometer on the wall registered just barely under an even 100 degrees.
That's not a cardinal on the left; it was a bluebird. I TOLD you it was hot.
1969 high temperature record broken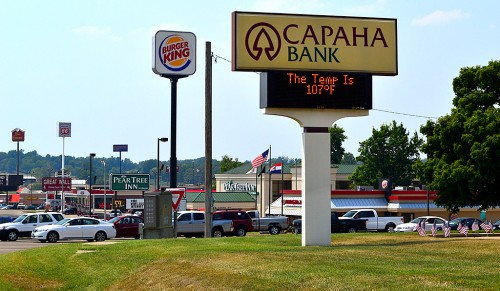 A new high temperature reading of 106 degrees at the airport topped the previous high of 103 set in 1969. The bank sign at William and Mount Auburn thought it was 107.
It doesn't look like we're going to get much relief soon. The weather gurus have issued an excessive heat advisory to run through Monday evening.
Low reading on Mount Auburn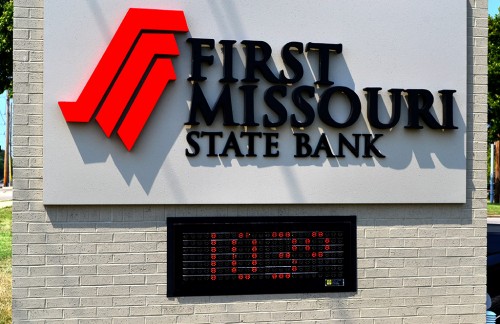 The lowest reading was just up Mount Auburn road from the 107 degree reading. I didn't feel any pool of cool air when I stepped outside to photograph the sign showing 103 degrees.
108 in Jackson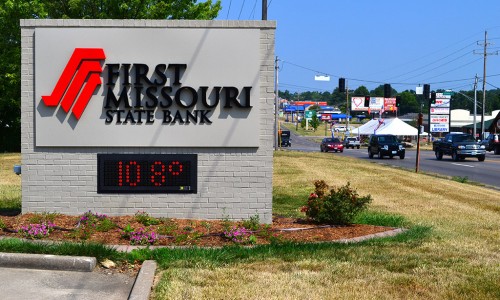 This bank sign coming into Jackson from Cape says it's 108 degrees. The grass is so brown and dry that it crunches when you step on it. This is not going to be a good year for shooting off fireworks.
Getting ready for hell and brimstone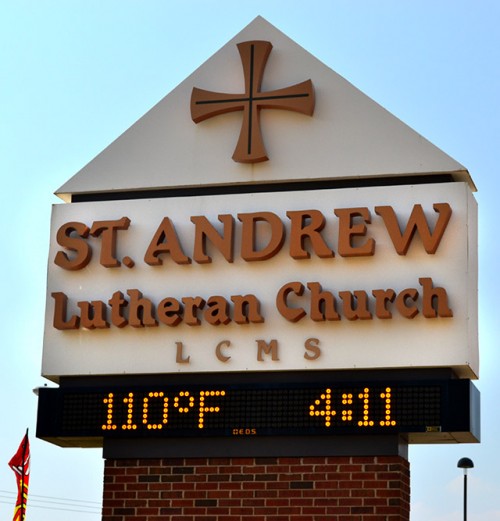 The highest reading I found was at the Lutheran Church near the corner of Kingshighway and Cape Rock Drive. Maybe the pastor is getting the congregants ready for a real hell 'n' brimstone sermon on Sunday when temperatures are supposed to drop to a mild 104 degrees.
You can't have this much heat without some big storms coming in behind it. I wonder if we'll have a replay of last year. The ground is so dry and hard that a heavy rain would probably run off fast.