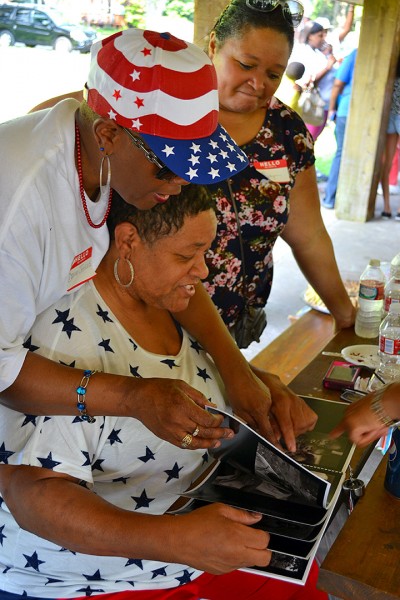 Mother and I passed through Capaha Park when we ventured out to Hamburger Express to pick up some ribs. I stopped at a pavilion where it looked like it there might be a reunion of some of the folks who lived in the Smelterville area. It turned out to be the Descendants of Nettie Hopper Spicer Family Reunion. They came from the Ranney Avenue area around Fort D and May Greene School, which is on the north side of Tollgate Hill, but they knew a lot of the folks I had photographed. I'm going to hook up with some of them to hear their stories of growing up in South Cape.
Shameless plug: I'll be at Annie Laurie's Antiques for First Friday, July 5, between 6 and whenever if you want to pick up a Snapshots of Cape Girardeau calendar or look at my Smelterville: A Work in Progress book. They are $20 each if I can place them in your hand. They are $25 if they have to be mailed. More about that later if you are interested.
Parade of Flags
Capaha Park was quiet, particularly since the pool has been demolished, so we cruised out to North County Park, which was equally quiet. I had to take a couple frames of the Parade of Flags. The wind was as calm as the park and there was some overcast, so the flags weren't as dramatic as they had been on other visits.
As I was taking this photo, I was moved by the idea that each of those flags represented a man or woman who had served his or her country, and the family that waited for them to come home. These flags have a real meaning. They aren't some monster flag a car dealer puts up to sell cars. They represent real people.
Kids and sprinklers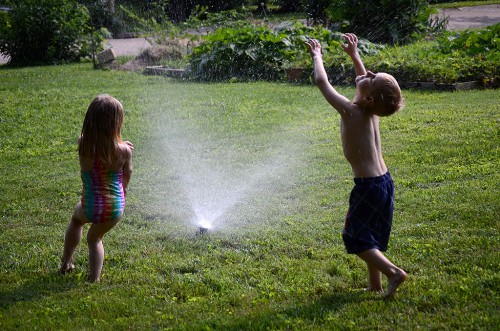 We cruised over to see what was happening in Jackson. I couldn't resist stopping when I saw Elias, 5, and Emily Huff, 4, playing in the backyard sprinkler. (As always, you can click on the photos to make them larger.)
We've lost something important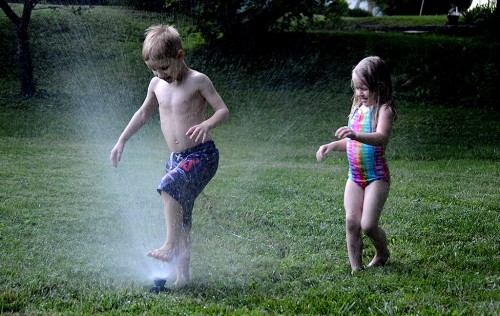 One of my former staffers told me a few years back that he no longer shoots this kind of photo. "As soon as I walk up to ask the kids for their names, they start screaming and running away. That's if somebody looking out a window hasn't already called the cops on me. It's not worth the hassle," he said.
Too many hours sitting in front of the All Fear All the Time TV Networks has robbed us and our kids of our independence and innocence. Thanks to Elias and Emily's father, Tim, for letting me take these photos. It's nice to know kids can still be kids in Jackson.