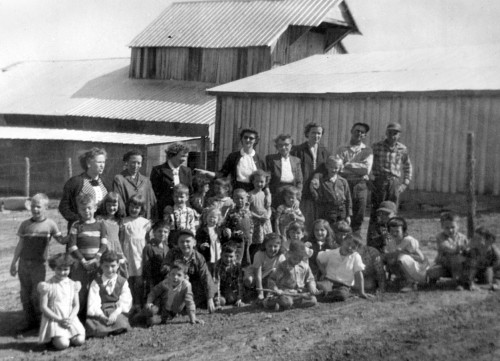 I was going to classify this photo in the mystery category, but after taking a closer look at it, I'm pretty sure it was my Trinity Lutheran School first grade class on a field trip to an unknown farm. Click the photo to make it larger.
The woman in the back row, left, looks like long-time first grade teacher Mrs. Walter (Lulu) Kelpe. The woman to the right might be Mother.
Jerry O'Connell put a potato on his nose
The boy in the second row, left, might be Jerry O'Connell. My folks set up a first grade diary / scrapbook for me. (I should explain to you younger folks that a scrapbook is kind of like a blog without electricity.)
There's an entry for Sept. 15, 1953, that says, "I ate at school again. I like it and really eat more than I do at home. It is so loud that you almost have to yell to talk. Jerry O'Connell always tries to be funny. You know what he did today? He put a potato on his nose to make us laugh. I didn't laugh. I didn't think that was so nice." I was a tough audience all the way back in the first grade.

The boy in the striped shirt next to him looks like David Hahs.
Sally Wright Owen wrote in an August 25, 1980, Missourian story, "At Trinity Lutheran School here, first day business was a little unusual in Mrs. Walter Kelpe's first grade classroom. When Brandon Hahs, 6, son of Mr. and Mrs. David L. Hahs, 3237 Lakewood, took his seat, he became the third generation to have Mrs. Kelpe as a teacher. Brandon's father was a pupil in Mrs. Kelpe's class, as was Brandon's grandmother, Mrs. M. Luther Hahs, 2526 Allendale."
Future majorette
The girl second from the left in the front row looks like Della Dee Heise, who has been featured here as a Central High School majorette. The boy next to her, leaning forward, may be Ronald Dost. I'm pretty sure the kid in the flannel shirt in the middle of the bottom row is me. Here was a picture of our kindergarten class taken in Trinity Hall in 1953.
I guess I'm going to have to scan my scrapbook. Jerry O'Connell wasn't the only first grader who did wild and crazy things.